Pakistani Most Horror Drama to watch in 2018
Pakistani drama industry has been reached at the height after completing its neighbor countries drama industry. Pakistani dramas are based on the strong script and proper planning which makes drama serial more worthy. Pakistani dramas have won a reasonable amount of profit in almost all the categories including romantic, sad, family-oriented and comedy. Now, our television industries try to put their step towards the new trends, therefore, they are focused on making Horror dramas. Many channels such as Geo, Hum TV, A Plus and others have successfully launched horror dramas and most of them are blockbusters.
List of Pakistani Horror Dramas:
Here is the list of all the Pakistani Drama industry horror dramas in 2018. You should watch these dramas to promote this initiative too for the entertainment of the people.
Saaya is a Pakistani horror drama played on GEO TV network. This drama is a combination of mystery, suspense, and fear. This drama was launched in March 2018 and is successfully gaining the positive reviews from the viewers. This story revolves around a mother whose soul protect her child even her death. This serial shows the love of a mother for her child. The cast of the drama includes Maham Amir, Hajra Khan, Kiran Tabeer, Faizan Sheikh and Sohail Sameer.
Bela Pur Ki Dayan (Hum TV)
Bela pur ki Dayan is a latest horror and thriller Pakistani drama launched in February 2018. This drama is significant popularity, fame, and revenue. The story revolves around  Tasha (Sara Khan) who becomes a victim of the spirit while shifting to the new home. This is family oriented horror drama and there is a lot of suspense that will be released soon in upcoming episodes. The cast of the drama includes Sara Khan, Adnan Saddique, Amar Khan, Osama Tahir, Rayyan and Sajjda Syed.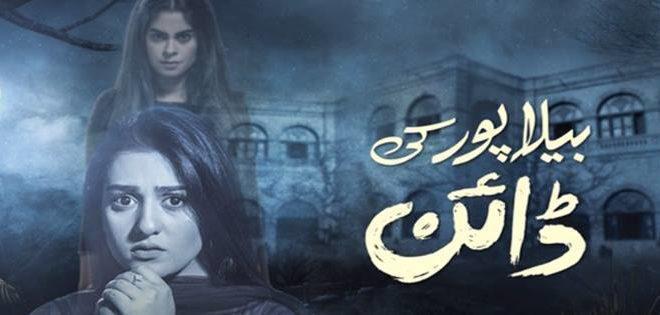 Dil Nawaz drama is becoming most thriller drama of the year. The story, cast, acting, and scenes all were perfect. This drama has been ended a month ago. This drama has shown an extended story of a powerful love. There was an intense love triangle between two human beings and one spirit. The main cast includes Neelam Muneer, Wajahat Ali and Minal Khan.
Mera Saya (Play Entertainment)
Mera Saya is a horror drama currently showing on Play TV. This drama revolves around three sisters who become the victim of the spirit. The spirit has been killed by their father and that's why all of the family is facing serious problems. The cast includes Shahzad Malik, Shazia Gohar, Kainat Chohan, Bisma, Salma, and Tabish.
Related Article | Top 10 One Sided Love Drama Serials-Pakistan