Mi Air charger is a wireless charging method:
XIAOMI introduced Mi Air charger that permits the client to charge devices even from a distance. Xiaomi indicated that this distant charging system can charge numerous devices all the while and will also charge the smartphone of an individual while strolling around with it even if there is a little barrier in the middle of the charger and the device. The Mi Air charger works similarly to a Wi-Fi , it charger empower distant energy move between the charger and the device to be charged totally through the air. The charging innovation is a significant advance to the fantastic remote charging strategy.
Revolutionizing the current wireless charging methods, #MiAirCharge Technology charges your devices remotely, without cables and charging stands. Let's see it in action! #InnovationForEveryone pic.twitter.com/9bD0Awul4s

— Xiaomi (@Xiaomi) January 29, 2021
Detects the location:
Xiaomi has a self created isolated Charging pile of five stage worked in interference receiving wires perfectly identifying the location of the smartphone
Size of the charger:
The transmitter looks very huge, just like a living room side-table close to the sofa.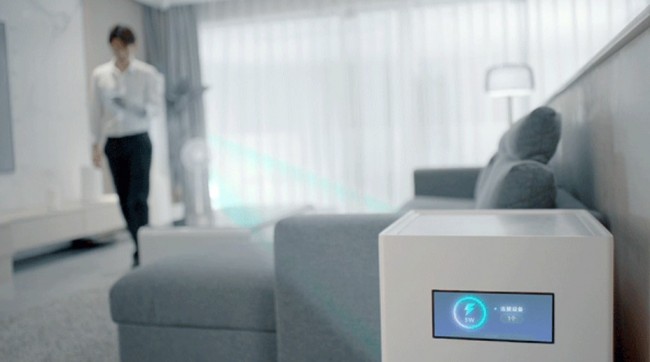 Mi Air Charge Technology:
"Xiaomi's self-developed isolated charging pile has five phase interference antennas built-in, which can accurately detect the location of the smartphone. A phase control array composed of 14 antennas transmits millimeter-wide waves directly to the phone through beamforming." According to Xiaomi
In addition to this the remote charging innovation can charge numerous devices of a 5W current inside a range of a few meters. Xiaomi claims that physical items don't minimize the charging proficiency.
We're excited to bring you the remote charging technology – Mi Air Charge Technology! Charge multiple devices simultaneously while you're gaming, walking around or even when something's in the way, no strings attached. Another giant leap forward in wireless charging technology! pic.twitter.com/wEoB10wOQ2

— Xiaomi (@Xiaomi) January 29, 2021
Unique charging system
The system of this Mi Air charger is not quite the same as the Qi charging standard that we have usually seen in Smartphones.
Develop small scale antenna
the smartphones have to be equipped with a "compressed antenna array with built-in 'beacon antenna' and 'receiving antenna array' in this system
An adaptable smartphone has a total of 14 antennas to convert a millimeter-wave signal that's spilled by the charging pile. This rectifier circuit converts the signal into electric energy.
Xiaomi is now working at making the Mi Air charge well-matched with smart watches, fitness bands, and different wearables too.
Living room devices, including speakers, desk lamps, and other little brilliant home items, will all be based upon a wireless charger very soon.