Enjoy Free Minutes, SMS and MBs with Zong 4G Digit 1!!!
Zong Pakistan always introduces the excellent services for its customers. Its services are very good with low rates. This time Zong introduced Zong 4G Digit 1 mobile phone for its customers. The new Zong 4G Digit 1 is Pakistan's smartphone which packs lot of excellent features in it. It is available in reasonable price rates as only Rs.5200/- PKR. You can enjoy free Zong minutes, SMS and MBs after buying this mobile phone. It also offering one year warranty from the sale date. Free hybrid offer for 3 months is available in Zong 4G Digit 1. So don't forget to buy this Zong 4G Digit 1, purchase it now and enjoy more SMS, MBs and Minutes from Zong Network. Get 4500 Zong minutes, 4500 Zong SMS, 450 free minutes on other networks and 6000MBs of internet. The complete details of Zong 4G Digit 1 handset and hybrid offer are here. Read all these details first then you must buy it.
All About Zong 4G Digit 1
Zong introduced a new mobile phone with the name of Zong 4G Digit 1. It includes a mega pack of excellent features on very low rates. The price of Zong 4G Digit 1 is only Rs.5200/-. It's really a very low price as it is full of the basic and needed specifications.
Free Hybrid Offer:
Zong is offering a mega bundle for its customers who will buy Zong 4G Digit 1. The offer details are as follows:
Free AIO 500 (3 month)
Free 4500 Zong minutes
Free 4500 Zong SMS
Free 450 minutes on other networks
Free 6000 MBs
Warranty Option:
There is one year warranty on buying Zong 4G Digit 1. It is offering the one year warranty starting from the sale date.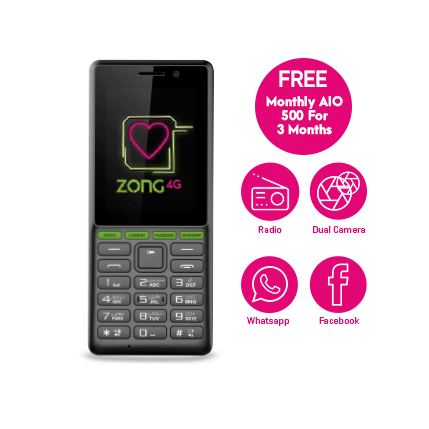 Key Features of Zong 4G Digit 1
OS: Android 4.4 Kitkat
Chipset: Qualcomm MSM8905
Processor: Dual core 2×1.2 Ghz
SIM: Dual Sim
Network: 2G/3G/4G
Display: 2.4 inches TFT QVGA (touchscreen)
Memory: 4GB Built-in, 512MB RAM
Camera: VGA front, 2 MP back
Battery: 2000mAh
Color: Black
More Features:
WhatsApp
Radio
Browser (Youtube access)
Facebook and Whatsapp
Hotspot Feature
Touch screen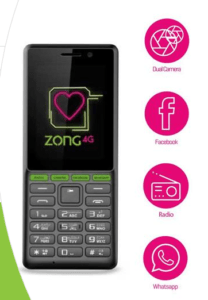 Service Centers
If you have any problem then you can register any complaint regarding the handset in below mentioned service centers. The service centers are as follows:
| | | | |
| --- | --- | --- | --- |
| Sr# | Location | Address | POC |
| 1 | Hyderabad | Prime Security Solution Chamber of Commerce Building,Opp,Press Club Saddar,Hyderabad | Ansar khan |
| 2 | Sukkar | Multi Communication Shop# 7 Shalimar Complex Minara Road Sukkur | Nadeem |
| 3 | Multan | Shop No.8 LGF Trust Plaza Opp PTCL Exchange | M Kashif |
| 4 | Quetta | MIM Communication Pvt Ltd Shah Jan center Najeeb Street Liaqat Bazaar Quetta | Hafiz Muhammad Baqir |
| 5 | Peshawar | Shah Jee Electronic Karim Pura Bazaar Ghanata Gher Peshawar City | Imdad |
| 6 | Lahore | New Cell Point G-135 Hafeez Center,Gulberg-111,Lahore | M.Rizwan |
| 7 | Faisalabad | Abid Mobiles,1st Floor Noor Market,Gole Bhowan Bazar,Faisalabad | M.Abid |
| 8 | Karachi | Shop No 51/54 Gemni Shopping plaza Saddar Karachi | Adil |
| 9 | Gujranwala | Sabeer Mobile 1st Floor shop#8 Trade Center Gujranwala | Burhan-ul-zaman |
| 10 | Islamabad/Rwp | No 424 Street no 27,E E-11/4, Islamabad | Ayaz Abbasi |
Related Article|Zong Customers are Facing Severe Call Connectivity Issues & Slow 4G Speed