Alkaram Announced Winter Collection 2018 for Women!!!
It's time to say welcome to the winter season and say goodbye to the summer season. A cold season with many new styles of dresses has been come. Top brands of Pakistan are offering the winter collections for their customers and Alkaram is also one of those brands which bring the best winter collection with trendy designs. Here is the Alkaram Winter Collection 2018 Volume 1. The brand keeps all global fashion trends into their mind and always offer something new. This year Alkaram bring a wide range of printed and embroidered outfits in its Fall Winter Collection 2018. There are many dynamic world of thematic and vibrant prints and embroidered patterns. All these patterns are available in cotton, viscose and khaddar fabric.
Alkaram Winter Collection 2018 has been started now and you must check this luxurious collection of the new season of this year. The complete details of Alkaram Winter Collection 2018 Volume 1 are given below. You must check all these details and enjoy your winter with favorite outfits of your own choices.
Alkaram Winter Collection 2018
Here is the new collection of outfits by Alkaram Studio, this collection includes all the trendy and vibrant floral that are contrasted with edgy color palettes. Because, a beautiful season deserves a pleasant look.
This winter collection has the following categories for women that are as follows:
Printed Linen
Digital Linen
Embroidered Cotton
Embroidered Linen
Embroidered Khaddar
All these women dresses are available in 2 piece (dupatta & shirt) and 3 piece (dupatta, shirt & trouser. These have the different price tags according to the stuff. There are also the Palachi Dupattas that are designed with each outfit to enhance the style and glory of the outfits.
Availability of Dresses
As the winter season is ON and here is the great collection with 2 piece and 3 piece dresses for women on Alkaram Studio. Here are 3 Piece Printed Linen with printed velvet shawl dupattas. Alkaram presents you its Winter Collection Vol. 1 in an exquisite range of fabrics & sophisticated prints. The latest Alkaram Winter Collection 2018 is now available in-stores & online also. So, please visit the nearest store of Alkaram Studio and enjoy your winter with brilliant designs and colors.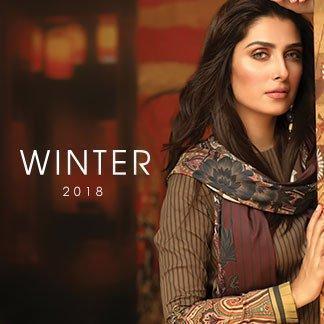 Related Article|J. and Almirah Summer Clearance Sale 2018| Up To 50% OFF on All Items