itel Mobile, a globally renowned smartphone brand under TRANSSION Holdings has launched its itel A32F. The sleek budget smartphone features a Rear Fingerprint Sensor, 5.0" crystal clear display and high quality metallic cover. Most prominently, itel has joined heads with Google to make the A32F one of the first smartphones to support AndroidTM Oreo™ (Go edition). Paired with the rest of its highly efficient features, the A32F helps you squeeze out the most value from a smartphone in this price range. The itel A32F retails for a highly affordable Rs. 9,399. 
"itel is brand for every one of the world who wish to get the most out of life. We at itel strongly believe that a smaller price tag should not mean a compromise on quality. itel strives to provide high quality, budget-friendly phones to connect and bring people closer together. The itel A32F presents a shining testament to that by combining efficiency, technology and connectivity at the most competitive price point," stated President Assistant, TRANSSION Holdings and Managing Director, TRANSSION Pakistan, Willy Cui.
Gear Up with AndroidTM Oreo™ (Go edition):
Itel is one of the first brands to collaborate with Google to bring this feature to the market for consumers. The AndroidTM Oreo™ (Go edition) is Google's optimized solutions for lower spec smartphones with 1GB RAM or less. It maximizes battery life and storage, restricts unwanted data consumption, and comes equipped with tailor-made Google app versions.
Fingerprint for Everyone:
Offering up functionality and accessibility every step of the way, the itel A32F also offers a Multi-Function Rear Fingerprint Sensor. The sensor is able to effortlessly respond in less than half a second and provide up to 8 functions for accessibility. These functions include phone and app unlock, taking pictures and recording videos, handling calls and alarms, and customizing your smartphone.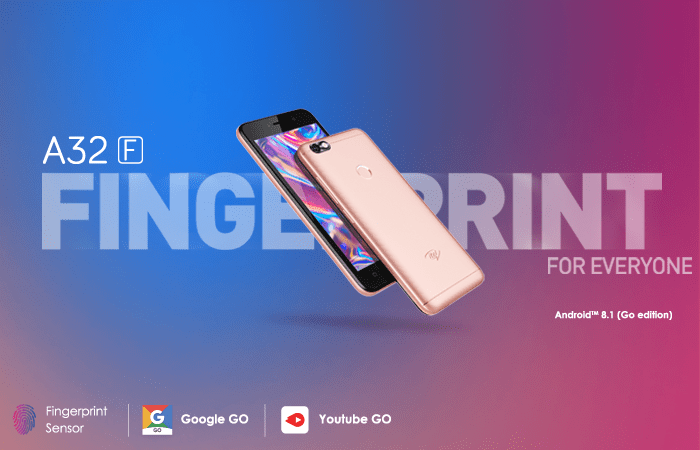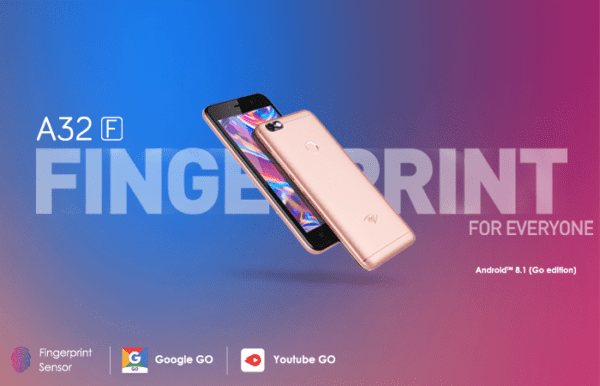 Most Premium Display and Body for Most Budget-Friendly Smartphone:
Offering up the best look and feel for a smartphone in this range, the itel A32F offers most premium budget-friendly quality in the market. The device features a 5.0" large display with impeccable clarity and resolution. The body comprises of a premium quality metallic cover and is available in three sophisticated colors – Midnight Black, Starry Blue, and Rose Gold.
Further Specifications:
Never one to skimp out on quality, the itel A32F also boasts a 5MP Rear Camera, 2MP Front Camera, 1.3GHz Quad-Core processor, 1GB RAM, 8GB internal storage expandable to 32GB, and a 2050 mAh battery under its hood.
Also Read: Infinix Launches the Much Awaited Android One NOTE 5 Stylus in Pakistan