Bechari Nadia Drama Serial in Trouble Before its Release
We have often listened to that, people criticized the drama due to bad story, weak dialogues and not up to the mark acting skills. But latest drama serial of ARY digital named Bechari Nadia is being criticized by many people before one hour of its release. On 9th July 2018 at 8:00 PM, the first episode of this drama serial was out and people criticized it even before that.
[youtube https://www.youtube.com/watch?v=JcekO810Msw]
Why Criticized Drama Bechari Nadia?
As a campaign and promotion, ARY usually posts about the drama in the YouTube App. They tell people about the theme and post pictures along with some text to create curiosity among the people. But this time, this campaign goes wrong and people start criticizing the drama and channel too. The share this post with the quotes which is denying the saying of Allah. According to this, people say that the daughters are the source of "Rehmat" and this is the quote of our prophet Hazrat Muhammad S.A.W.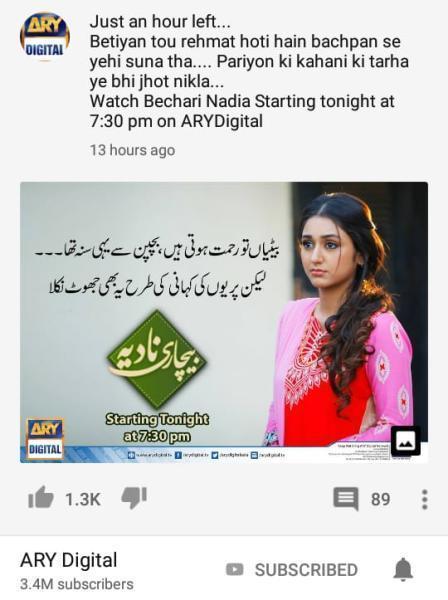 What Did People say?
People criticized the lines which they have posted just for sharing the theme of the drama. People say that they are making fun of Islamic teaching which is totally condemnable. Making fun of Islamic quotes just for the promotion of the drama is totally ridiculous.
Some people said criticized them because of such "Ghisi Piti" Stories. All the dramas of ARY are based on the cruelness on the mother, daughter, and wife. There is nothing unique about their drama serials and they make people sadder.
Moreover, some people criticized the drama while the other just criticized the lines.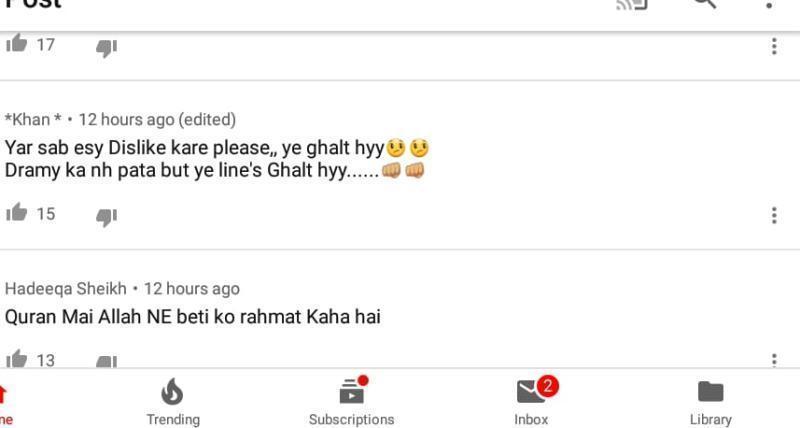 Few People Praise the drama and show interest for its first episode.
Story Plot:
The story of the drama revolves around an innocent and kind-hearted girl Dania Anwar aka Nadia. She has shown an unlucky girl as she is labeled by her grandmother. The drama highlights how the daughters have to suffer when their father died and they have more miseries in life. She even got married to a boy whose parents does not accept her. The drama has shown new faces; Dania Anwer, Noman Habib, and many others. The story is old and traditional when a girl becomes a victim of everyone's criticism.
Related Article | Why is Meri Guriya Drama a Great Warning about Daughters for parents