ARY is gearing up to make Eid special with their telefilms; the new addition to the list is Mummy Nahi Manain Gi. The Telefilm promises fun, romance, and a lot of entertainment for this Eid. The telefilm comes with a fan favorite cast that has won the hearts of the audience many times.
The story of the Eid special telefilm is a romance story between two people who are having a hard time convincing their mothers to say yes to the wedding. The topic is not really new, but it is fun enough that fans will enjoy it immensely.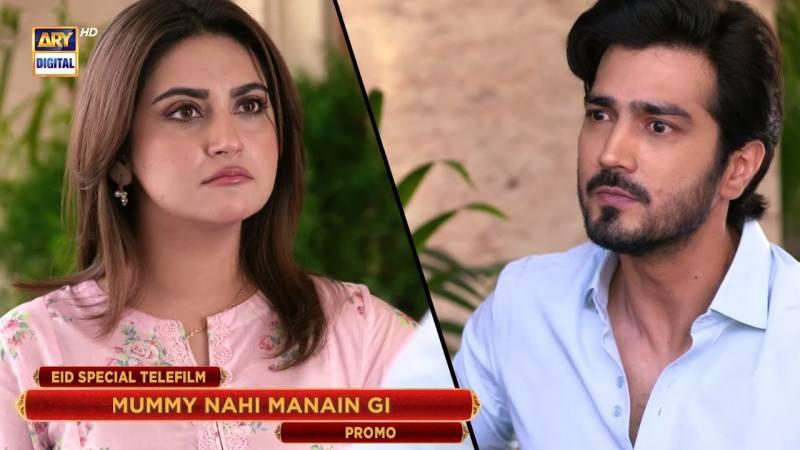 Here is everything you need to know about the telefilm Mummy Nahi Manain Gi and what you can expect from it.
What is the Cast of the Telefilm Mummy Nahi Manain Gi?
The cast of the telefilm looks to be fantastic and full of favorite actors and actresses who already have a huge fan following all over the world. In fact, the main couple of the telefilm is a very popular couple in real life as well. Here is the complete cast of the telefilm.
Shehzad Shiekh
Hiba Bukhari
Shagufta Ijaz
Fazila Qazi
More cast names will be revealed soon.
Who Wrote the Telefilm?
The telefilm is written by Hassaan Imam. He has written some good dramas over the years and has tasted success multiple times. Some of his best works include Sanaullah ki Dosri Shadi, Huway Hum Jin kay Kiye Barbaad, Ishq Nahin Aasan, Tu Heer Mein Tera Hero, Romantic Razia, Sheikh Sahib Chal Basay, and more.
Who Has Directed Mummy Nahi Manain Gi?
The drama serial is directed by actor Ahmad Hasan, who is known for his acting works. He has previously directed multiple smaller projects that include commercials and short films. This will be his first major work.
Read more: First Teaser of Eid Special Telefilm Android Abba Released
Who Produced the Telefilm?
The drama serial is produced by TNI Entertainment. This production house has produced some great projects, such as Aik Aur Sitam, Shehr-e-Malal, Manjdhaar, Baby, Ro Raha Hai Dil, Ishq Na Kariyo Koi Hoor Pari Noor, Ru Baru Ishq Tha, and more.
What is the Timing of the Telefilm Mummy Nahi Manain Gi?
The telefilm will be aired on ARY Digital at 7 PM on the 3rd Day of Eid ul Fitr. The audience is excited about the release.