Asim Mehmood is one of the rising stars of Pakistani Drama and movie industry. Debuted in 2013, Asim rose to fame slowly but sure to remain an integral part of the industry for the long term. He has worked in a huge list if dramas in secondary lead and main leads.
He got the boost from his very first project, which was the movie Main Hoon Shahid Afridi. After that, he turned his attention to the TV drama industry and since then he has done a fantastic job of creating his dedicated fanbase who follow his dramas every single time.
Here is the complete biography of Asim Mehmoods with a closer look at his age, his dramas and the ups and downs of his career as an actor.
Biography of Asim Mehmood
Age
Asim Mehmood was born on 16th January, 1987 in Sialkot, Punjab. He is 34 years old and his zodiac sign is Capricorn. He was born and raised in Sialkot where he received his early education and later moved to Karachi to pursue his career.
He is 5 feet and 10 inches tall, which makes him fall in the taller spectrum as per the societal standards of Pakistan. He is best known for his boy next door good looks. Plus his acting skills have made him one of the biggest rising stars of Pakistan.
Family and Parentage
Born and raised in Sialkot, Punjab, Asim Mehmood belongs to a very humble background. He is the only person from his family who works in the media industry. He doesn't really show them to the rest of the world, but he is not hiding them as well. He often shares pictures of his family on his social media accounts. His family is very supportive of his career choice.
Education
Asim Mehmood received his early education from Sialkot's Government Christian High School. After that, he enrolled in Government College of Commerce, Sialkot from where he completed his Bachelor's degree in Commerce. After that, he joined the Institute of Chartered Accountant of Pakistan from where he received his Associate Public Accountant degree. Before joining the media industry, Asim Mehmood was working as an Internal Auditor at a firm in Sialkot but he left the job to start his acting career.
Relationship
Asim is single at the moment and he is not looking forward to starting a relationship any soon. However, he is not averse to the idea of a marriage.
Becoming an Actor
Asim Mehmood started his career as an actor in 2013, however, before that he was a model. He appeared in many TV Commercials and appeared in TVC such as Colgate Max Fresh, Pepsi, Sessions Canola Oil, Telenor TalkShawk and Mobilink Recharge. He also appeared many fashion shows and did photoshoots for different brands.
As for his acting career, he has appeared in a number of movies as well as multiple dramas. Here is a list of his films.
| | |
| --- | --- |
| Movie | Year |
| Main Hoon Shahid Afridi | 2013 |
| Halla Gulla | 2013 |
| Ballu Mahi | 2017 |
Here is a list of all the dramas he has appeared in so far: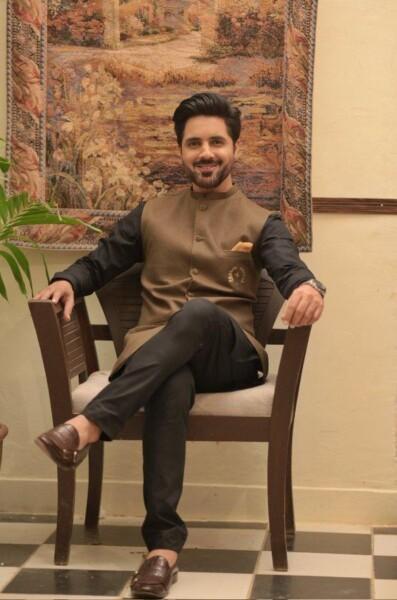 | | | |
| --- | --- | --- |
| Drama Name | Channel | Released |
| Rang Mahal | GEO TV | July 24, 2021 |
| Meri Dilli Wali Girlfriend | Sab TV | April 1, 2021 |
| Mujhe Khuda Pay Yaqeen Hai | GEO TV | February 1, 2021 |
| Umeed | GEO TV | August 31, 2020 |
| Mera Wajood | Express TV | June 1, 2020 |
| Bharosa Pyaar Tera | GEO TV | June 10, 2019 |
| Dolly Darling | GEO TV | May 7, 2019 |
| Aik Bond Zindagi | APlus TV | June 24, 2018 |
| Tu Jo Nahi | TV One | February 19, 2018 |
| Zamani Manzil Kay Maskharay | GEO TV | November 3, 2017 |
| Paimanay | Urdu 1 | November 1, 2017 |
| Aao Laut Chalein | GEO TV | March 4, 2017 |
| Baby | Express TV | February 27, 2017 |
| Sun Yaara | ARY Digital | January 2, 2017 |
| Ali Ki Ammi | GEO TV | November 16, 2015 |
| Saas Bahu | GEO TV | August 20, 2015 |
| Mera Yahan Koi Nahi | GEO TV | August 15, 2015 |
| Takabur | APlus TV | July 23, 2015 |
| Gila Kis Say Karein | Express TV | April 27, 2015 |
| Babul Ki Duain Leti Ja | ARY Digital | April 21, 2014 |
| Qarz | ARY Digital | June 29, 2013 |