Ayesha Khan Nikah held at Faisal Masjid – Pictures Breaks on Social Media
Last Night, Ayesha Khan Nikah Ceremony was held with Major Uqbah Hadeed Malik at Faisal Masjid Islamabad. They uploaded their Nikah Picture on Social Media. Fans give a lot of prayers to this newlywed couple.
Wedding of cute and lovely Ayesha Khan has become viral on social media from last few days. Her fans keep eye on her marriage activities. But how can Ayesha khan celebrate her happiness alone without sharing the picture on social media? Her Rasm-e-Hina was held on 13th April. She shared the picture of her Rasm-e-Hina on social media. Not only pictures but also the dance video of her along with her husband Major Hadeed become viral in just a day. Her BFF Hamza Abbasi also seen in which he was holding the dupatta for Ayesha khan's entry event. She was looking absolutely stunning and gorgeous as always.
Ayesha Khan is a famous Pakistani actress who has done out of box jobs in many drama serials. A few days ago, she decided to get married to army man and she decided to quit the showbiz. This news makes her fan sad because they want to see her more on TV. Suddenly, she announced her marriage which creates suspense about this in her fans and they all are very happy.
After the pictures of the Rasm-e-Hina, people were anxiously waiting for her wedding day as Ayesha Khan's marriage was expected on 15th April. As Ayesha always surprise to her fans.  Ayesha Khan Nikah ceremony picture on social media sites was uploaded last night. The pictures become viral in just a few hours. She was wearing a traditional beautiful dress Kurti, Dupatta, and Sharara. On the opposite side, Major Uqbah Hadeed wore traditional shalwar Kameez along with vest coat. Their cute couple, their pictures and simplicity in Nikah makes them more respectable and prominent in the world.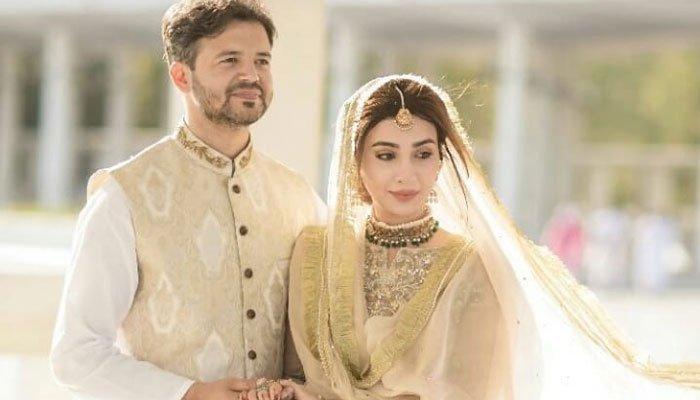 Her Nikah ceremony was held at Faisal Masjid Islamabad with much simplicity. Their Photo shot was also held at Faisal Masjid. The fans of Ayesha praises the couple and makes special dua for her ahead marriage life. The Rukhsti and Walima Functions date are not Yet confirmed but there is a hope that their Walima will be on 16th April. Anyhow! We wish a happy marriage to this newlywed couple and pray for their further life.
Related Article | Iqrar-ul-Hassan second marriage with Farah Yousaf Truth Revealed