Aymen Saleem is a name known to everyone. It wouldn't be wrong to call her beauty with brains, who has proved to be a pleasant addition to the showbiz industry. A girl who have been associated with corporate branch happened to cast in drama serial and earned all the limelight with a single play.
Besides being an outclass actress, she is a daughter of legendary Pakistani cricketer Saleem Yousaf that became one of the many reasons of her success. These days, she us surely ruling the screens with her beautiful smile and mesmerizing face features.
Let's move ahead and talk about Aymen Saleem in detail to know more about her.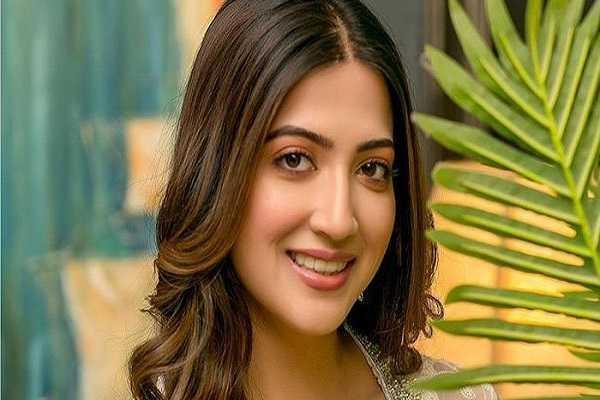 Aymen Saleem Biography
Aymen is a young, competent, energetic and beautiful Pakistani actress and model. Its been a few years she became a part of the industry yet her success and fame is worth commendable. With a single project, she has gained a wide fan following that surely surprises us.
Aymen who was associated with corporate branch met with Sultana Apa, CEO of HUM TV in a family gathering. She offered her to a part of HUM play on which she agreed. It is how she entered the showbiz industry and made her place in a short span of time. Aymen is young and lives in Dubai but for her work, she also comes to Karachi.
Aymen is one of the those actress who are educated and extremely talented. Her confidence, intelligence and grace makes her different from others and force people to love her more.
Showbiz Career
Aymen has never dream of becoming an actress or model all her life. It all happened by chance and it was surely a fortunate moment that she decided to be a part of this industry. Her debut drama serial Chupke Chupke starring Ayeza Khan, Osman Khalid Butt, Arsalan Naseer and many others became the biggest blockbuster of all time.
After her debut serial she didn't sign any project and said good bye to the industry forvere. It was surely a shocking news for all her fans who started loving her madly. However, after a few months, she again decided to be the part of this industry.
Aymen has become the brand ambassador of various noted and popular brands till now. She is inevitably becoming popular with time.
Aymen Saleem and Arsalan Naseer
Whenever anyone talks about Aymen, they never forget to call the name of Arsalan Naseer who has gained fame with his debut serial Chupke Chupke. Their chemistry in the drama serial was highly admired and people couldn't stop crushing them. After the massive success, both have made many apearnces.
Both are called in different interviews and shows because of the fans who wants to see them together.
Aymen Saleem Family
Many people might not be aware that Aymen is the daughter of famous former Pakistani cricketer Saleem Yousaf. Besides this, her aunt was Nazia Hassan who was the famous Pakistani singer. Hence, talent surely run in the genes.
Aymen is the only daughter that's why she is close to her parents. Currently, she is unmmaried and not dating anyone.
Aymen Saleem Dramas
Till now, she is only seen in a single project. However, we wish to see her more and more and for this, we are waiting for her next play.