It is that time of the year and brands are launching their Azaadi Sale 2021. With the celebrations of Pakistan Independence Day just around the corner, brands are now offering their stocks up for sale to the general public.
With the country slowly going back normal after coronavirus lockdown, brands and general public is now looking forward to the Azaadi Sale 2021. From up to 50% off on elected timed to sale on all on stock, many brands are putting out a lot of products for people to purchase.
There are brands that are offering sale items on their store outlets as well, but the majority of brands are offering this sale on their website as well. If you need new clothes, shoes or new accessories or gadgets, chances are you will find it in the sale at any of these platforms.
Here is everything you need to know about the current and active Azaadi Sale live on the below mentioned brands and what they are offering to their customers.
Daraz.Pk's Mega Azadi Sale

Daraz is no novice when it comes to sales. The platform is huge and consistently offers something extra special to its customers all over Pakistan every now and then. While this Alibaba subsidiary does not need an occasion to bring out a safe for the people, Azaadi Sale 2021 is extra special this time around on this platform.
Daraz is offering plenty this time. They are offers discount vouchers of 1000 rupees to 5000 rupees, plus brands like Xiomi are offering mega sales on the platform. Xiaomi is exclusively offering up to 55% off and its latest Mi Band 5 up for grabs at 40% off. Plus, you can save some extra money if you pay through Faysal Bank, MCB, Bank Alfalah, Daraz Wallet, Askari Bank, Allied Bank, HBL and Easy Paisa.
J. Azadi Sale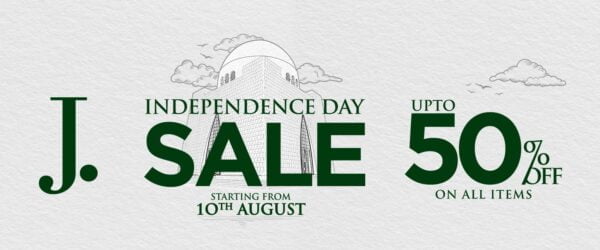 J. and Junaid Jamshed is offering up to 50% off from 10th August and onwards. Their azaadi sale 2021 is being called Jashn-e-Azadi sale in which they are offering massive percentages off on their entire stock and range that includes, shoes, clothing, fragrances and accessories.
You can shop online or go to their outlets. If you shop online, they offer free delivery on orders above 1500 rupees. The sale will end on 16th August, 2021 which is this Sunday.
Limelight Azadi Sale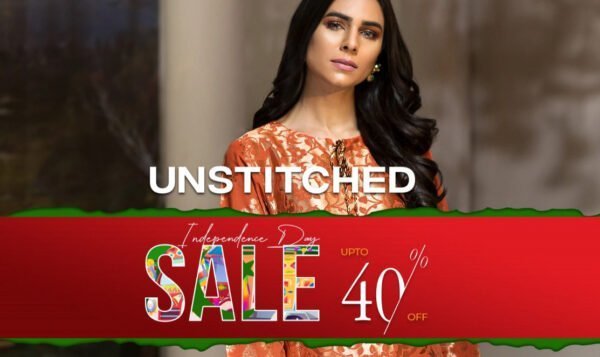 Another brand that is offering up its whole stock up for sale is Limelight. This famous brand is offering up to 40% off in their azaadi sale, which they are calling the Independence Day Sale. You can go to their store outlets and you can also shop online.
They are offering free shipping across Pakistan on orders that are above 890 rupees. The sale will begin today, i.e. 10th of August and the brand hasn't announced an end date yet. If you go now, you can avail 10%, 15%, 20% and even 40% off on your selected item.
Charcoal Azadi Sale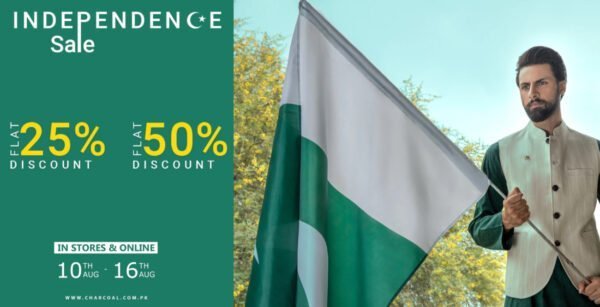 Much like the other brands, this exclusively male brand is offering a massive discount in their azaadi sale 2021. In their Independence Sale, Charcoal is offering flat 25% off and a 50% off on their entire stick. The sale items are available online and at their store outlets.
The sale will also begin today, i.e. 10th August and will go on until 16th August, this Sunday. The brand is offering free shipping on all orders above 2000 rupees across Pakistan.
Alkaram Studio Azadi Sale

Alkaram Studio is offering up to 50% off on all its stock until lasts. An opportunity unlike any other, the azaadi sale 2021 at Alkaram Studio is being called Independence Day Sale. The sale begins today i.e. 10th August and it will last until their stock does.
You can go to their massive retail outlets or you can shop online. As for the delivery, they are currently offering free shipping on all orders above 3000 rupees. However, items on sale are not eligible for return or exchange. You can avail this discount on all clothes for men, women and children.
They have a wide range of sizes, colors, materials and designs to choose from. So stock up now and enjoy your shopping!