Make Your Journeys Safe by British Airways in Pakistan after 11 Years…!!!
The air companies are used to reach on remote areas by airplanes. In this regard all countries have its own airway company. In 2008 due to a terrorist attack the flight operations were suspended on Marriot Hotel Islamabad and British Airways also suspended all the airways facilities in Pakistan. But now here is a good news as British Airways will restart its flight operations in Pakistan. The flights are set to resume from next year as June 2019. According to the announced framework three flight are set to depart in a week in Pakistan. These airways services are resuming after 11 years in Islamabad & will route from 15 June 2019. It's very a long period but the good thing is that now Pakistani can use the facilities of British Airways in their country. The details are given below must read all these info and make your long journeys safe and sound with British Airways.
British Airways Services in Pakistan
Here is a good new for Pakistanis who want to go on remote areas to meet their loved ones. As the United Kingdom's national carrier, British Airways, will restart flight operations in Pakistan after a decade. This great announcement is done by the British High Commission. In 2008 British Airways flight operations were suspended by a terrorist attack on the Marriot hotel in Islamabad. But now the British high commission representatives announced that flight operations are set to resume in Pakistan from June 2019.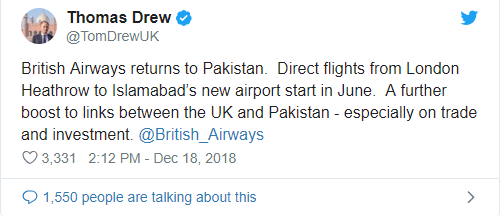 The services of airways in Pakistan were suspended due to the weak security and terrorists attack. But now the security restoration of peace are applied in Pakistan and the services would be restart from next year. Now there is a reflection of the great improvements in security in Pakistan.
Flights Details
British Airways is owned by Spanish-registered IAG, is going to begin the London Heathrow-Islamabad service on June 15. It will start with three weekly flights in Pakistan. It means three flight are set to depart in a week.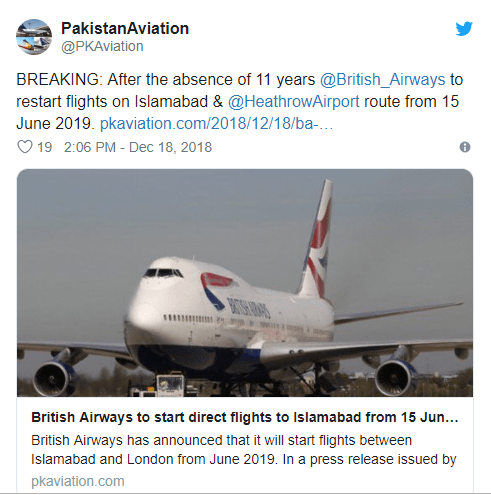 Many other Airways are providing their facilities as Qatar Airways, Etihad Airways and Emirates with strong presence in Pakistan. Turkish Airlines also lays on a regular service to Pakistan. The links between Britain and Pakistan are already good from culture and cricket, to people, politics and education.  This new initial would also helpful for the future of both countries.
Related Article|Umrah Packages in Pakistan – Visa, Tickets, Hotels | Total Cost Rough Idea