Its All About Vote Casting & Enjoy Mega Discount Offers- Best Food Deals
There is only one day left to cast votes to their favorite political party and elections get high attention all time. In Pakistan elections has been started from 25th July 2018 where only one day has been left. As it is the right and voice of all Pakistani human beings so we all should cast our votes to any party. In order to encourage people for vote casting many retail companies and food outlets are offering Mega Discount Offers. These special Mega Discount Offers are only for those who will cast their vote in this elections 2018. Many restaurants are offering free or discounted food deals to people. This is the best way to providing you the best food deals through these Mega Discount Offers.
Mega Discount Offers
The below mentioned are the best food point in Pakistan. All these points are offering Mega Discount Offers to all Pakistanis who would cast their precious votes tomorrow. If you want to get these Mega Discount Offers then you need to cast your vote.
Gul Ahmed
You're not just a voter you're a participant in building a better future. Show your inked thumb at Ideas by Gul Ahmed store and get up to 50% off on your purchase. This discount offer is valid from 25th July 2018.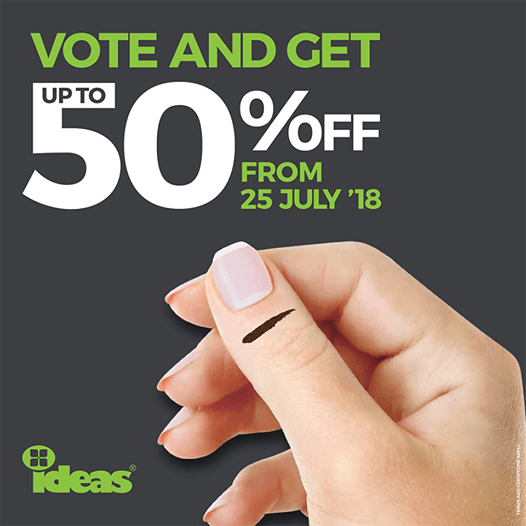 Elemento Caffe
Don't forget to cast your vote tomorrow. You can get a free tea from Elemento Caffe.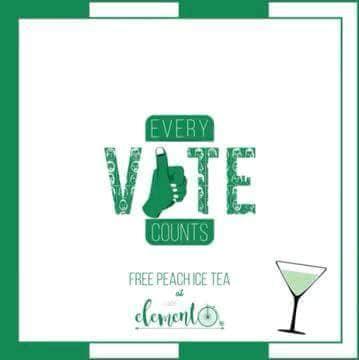 AMBROSIA
Cast your vote tomorrow and claim for your free drink from AMBROSIA.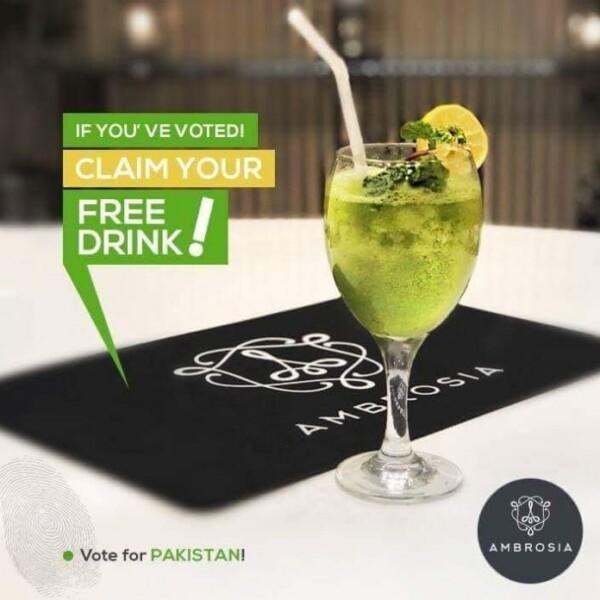 Nosh
Cast your vote and then visit Nosh. You need to get inked and you will be rewarded. Nosh Bar & Grill is offering 40% discount. You need to show your vote mark and get:
40% discount on lunch
30% discount on dinner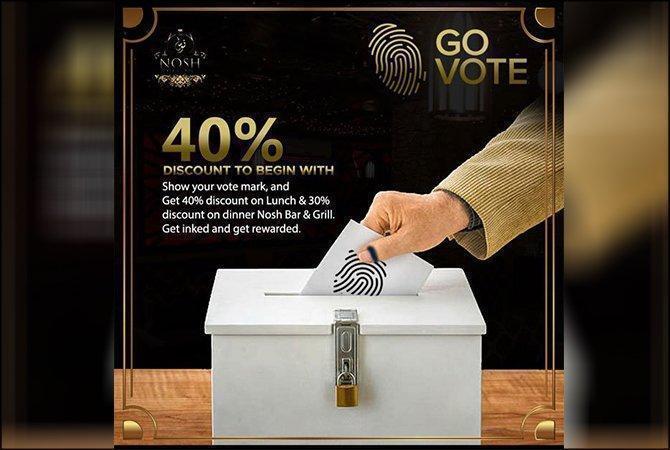 Kebabistan
Kebabistan is famous for the taste for nation. Cast your vote and get 15% OFF on food deals. You need to cast your vote for the betterment of Pakistan.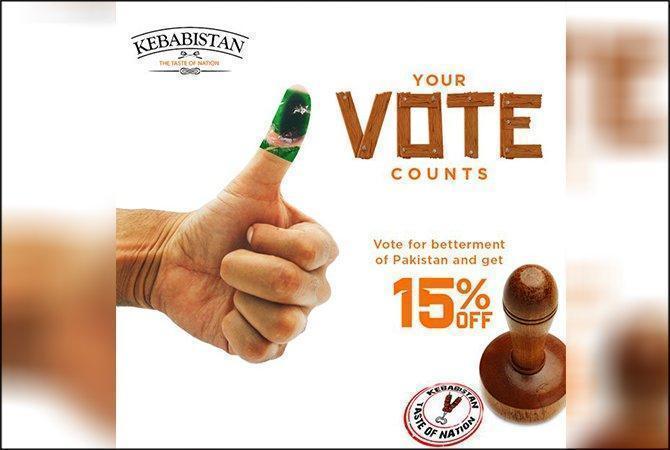 Bumzee's
Bumzee's offering a large discount offer on eatable things. You need to show your casted vote thumb and you can get 50% OFF.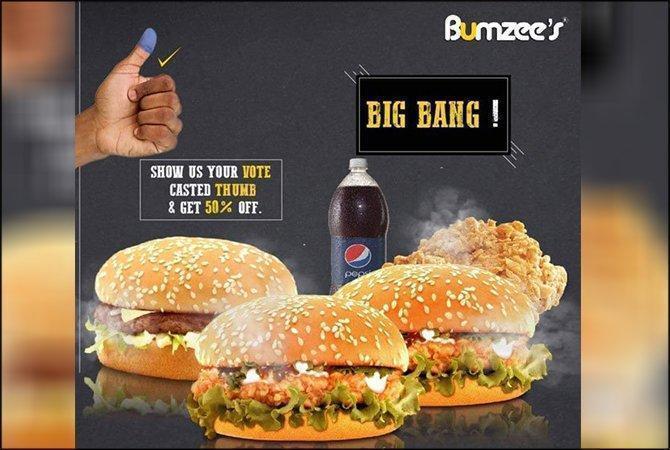 Burger in Law
Now you can get Free Fries from Burger in Law after casting your vote to any political party of Pakistan. As it says "Vote Do Fries Lo".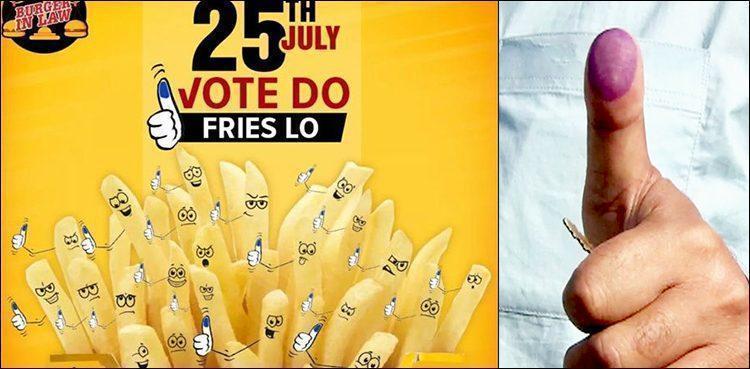 BurgerLAB
In BurgerLAB you only need to show your proofed voting mark. Then you can get Gourmet Fries Free on the purchase of a burger.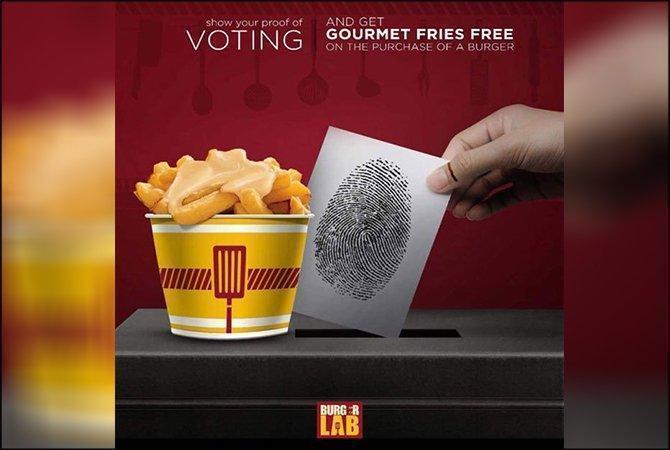 Del Frio
You can get free Baked Goodies from Del Frio. You can get the complementary baked products from Del Frio on election's day.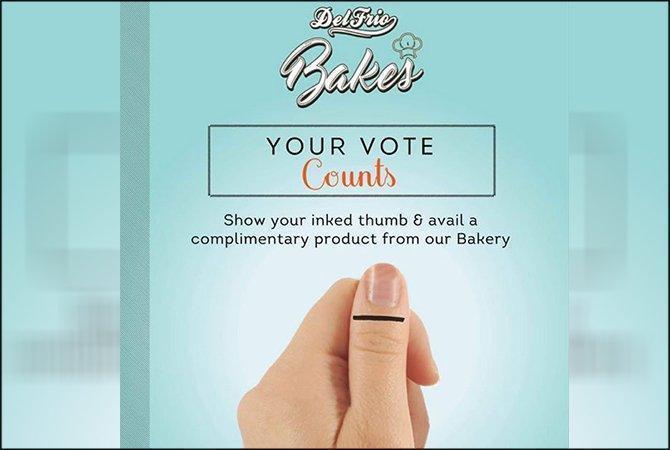 Espresso
Espresso offering a Free Cup of Coffee on showing them the marked thumb. A perfect offer for coffee lovers.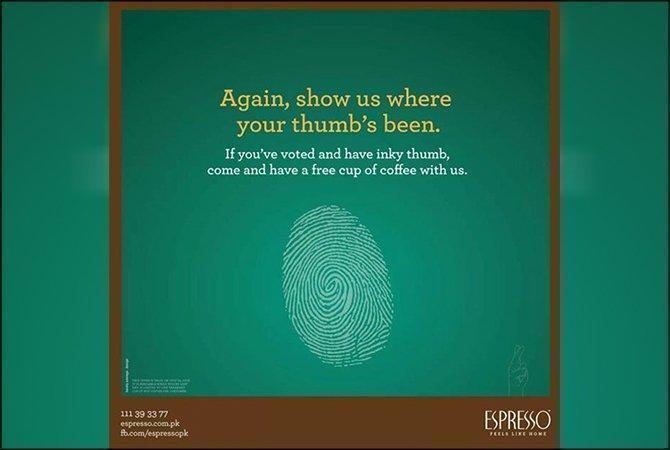 The Deli
The Deli is also offering a free cup of coffee to the people who cast their vote tomorrow. If you are the coffee lover then it is the best deal for you.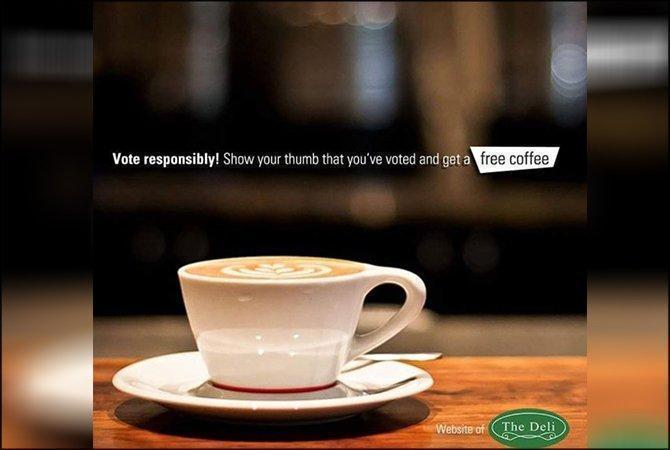 Heisen
After casting your vote tomorrow you don't need to coffee you need some chocolatey goodness from Heisen.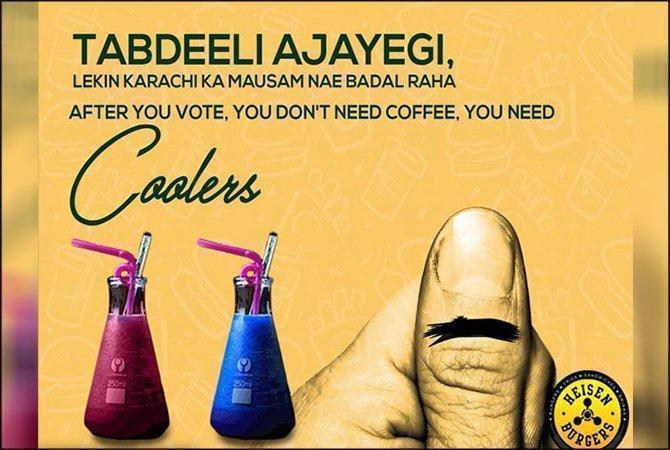 Paramount
If you cast your vote tomorrow then you can get a Free Giant Cookie from Paramount.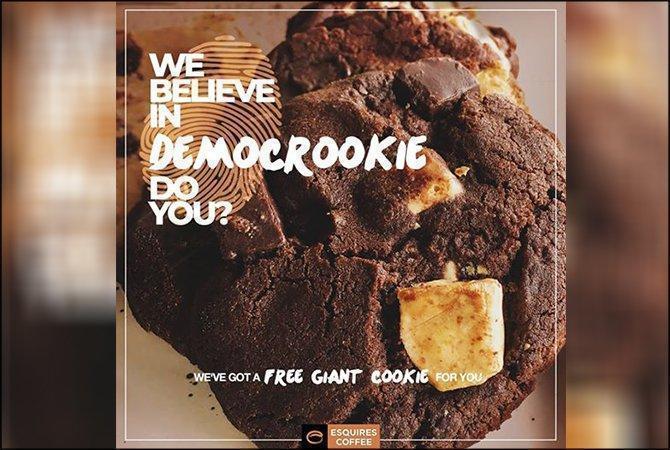 Related Article|Election Commission Launches Click ECP App to Help Voters