Something Very Special is in Daraz 11.11 Sale 2018 (Coming Soon)…!!!
To do shopping is one of the best thing that can change our mood also. This is the only thing which we enjoyed and want to do anywhere and at any time. Now Daraz bring the biggest sale of this year with the name of Daraz 11-11 Sale 2018 in Pakistan. It is one day campaign which would able you to enjoy the 24 hours online shopping experience. There are lots of fascinating deals that will be unlocked during this one day mega sale campaign. The mega Daraz 11-11 Sale 2018 would be started from 11th November 2018. 11-11 has become an annual online shopping festival where sales are held for only 24 hours with mega online discounts and you get your desired products at a steal price.
There is a mega stock of valuable products in this sale including huge discounts along with Crazy Flash Sales. The Daraz 11-11 Sale 2018 includes all categories of clothes, shoes, accessories, electronic parts, home appliances and much more. Mystery Boxes, Brand Vouchers and most importantly 11 Taka Deal will be available in this mega shopping event. All the previous records would break in this one day sale event. It's really the biggest global shopping event of this year. So get ready for the mega 11-11 deals that would be held only for 24 hours and would be end after exactly 24 hours.
Mega Sale Event on Daraz
Pakistan's leading e-commerce online shopping company Daraz is bringing 11.11, the 'World's Biggest Sale Day in Pakistan for the first time. Daraz 11-11 Sale 2018 is a one-day sale that is sponsored by Unilever, L'Oreal, P&G, Nestle, Mi, PEL and Haier as well as HBL as one of the financial partners and Telenor as the telecommunications partner. Through this mega discount sale customers can get any product in a discount price from this store.
Major Categories in Daraz 11-11 Sale 2018
This mega sale is available on all products from Daraz store. Some of them are as follows:
Dresses (Men, Women & Kids)
Shoes (Men, Women & Kids)
Fashion Accessories (Men, Women & Kids)
Electronic Devices & Accessories
Latest Mobile Phones
Home Appliances
Health & Beauty Products
Sports Accessories
There is less than one month for starting this mega sale event and then you can get your favorite products in the most reasonable rates. Bring out your shopping spirit for the most awaited 11.11 mega online shopping festival of this year with Daraz.
More about Daraz 11-11 Sale 2018
11-11 is the numeric short form of 11th November. On 11th November 2018, Daraz 11-11 Sale 2018 would be held only for 24 hours. The purpose of this mega event is to make awareness among people about how to shop in a specific time frame. It would also increase Pakistan's e-commerce industry on global level. It is more than deals and discounts as there are more than 2 million products available in this event.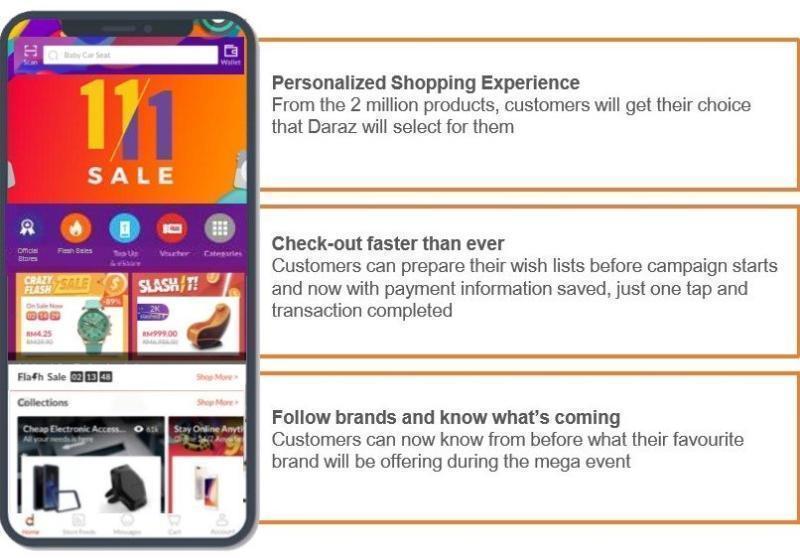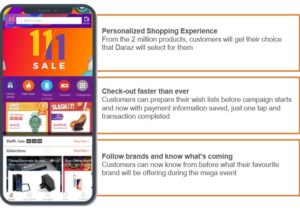 Event Overview:
4-hour event leading up to the 11-11 launch
It is the first ever offline event with an interactive live broadcast (live polls, QR codes and in-app actions)
Objective – get millions of users to create their wish-list just in time for the event launch
Event highlights:
Interact – activities to encourage real time actions from users (app downloads, add to wish-list follow brands),
Reveal – unveil top deals to create excitement
Entertain – engage audience with performances from country's top celebrities
The complete details are mentioned above now wait a little more for the biggest shopping event for the first time in Pakistan. It would be started from next month on 11th and you will be enjoyed Daraz 11-11 Sale 2018 with your family and friends. Don't forget to attend the mega event of this year 2018.
Related Article|J. and Almirah Summer Clearance Sale 2018| Up To 50% OFF on All Items