Ramsha Khan and Shahzad Sheikh are Pairing for Upcoming Drama Serial Khudparast
It's time for new young talents to appear on TV for the showcase of their talent. Very energetic and all-time favorite Ramsha Khan is parring with handsome Shahzad Sheikh to appear in a drama serial. Shahzad Sheikh has shown brilliant performance in many drama serials. Currently, he is appearing in a drama serial Ghar Titli Ka Par which is a super duper drama serial. Khudparast Drama will air on ARY digital soon as a huge fan following of both celebrities are waiting for this.
It's the story of two families with different viewpoint; Shahzad said. Uswa by Far is the most enjoyable and difficult character I have ever performed; Said Ramsha. Moreover, she stated that; Uswa is an egocentric woman who will destroy her married life as brainwashed by the people around her.
Khudparast Drama Detail:
The few details such as cast, crew, and story plot have been revealed. Although the airing date, time etc. is not yet declared.
Cast:
Ramsha Khan
Shahzad Sheikh
Asma Abbas
Nausheen Shah
Hassan Ahmed
Crew:
This amazing drama serial is directed by Aabis Raza, the great director who have directed many drama serials. He has won many awards in drama serials like Kankar and Nibah. He is also going to release in another screenplay named Man Jao Na.
Story Plot:
The story of this drama is based on the arrange marriages and its consequences. Ramsha Khan is playing the role of Uswa, a household girl. On the other hand, Shahzad Sheikh is playing the character of Hanan, parent obedient boy.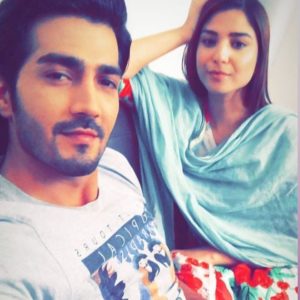 Uswa and Hanan get married and the rest of the story starts after that. It was arranged marriage and families of both forces them for this. After the marriage, they fall in love with each other. Bu the different viewpoint of both families ruin the relationship. Both families pressurize them and try to do the brainwashing of the couple. What happens next? Will Hanan divorces her wife? Who is the main culprit against all these circumstances? Well, all these secrets will reveal as the drama will release. Hope so, this on-screen couple will make this drama super-duper.
Related Article | Khafa Khafa Zindagi Drama – Cast, Crew, Story Plot and Release Date