ARY Digital is ready to launch its new line of drama serials and the first up is the drama serial Angna. Marking the comeback of Areeba Habib, the drama serial features many of the beloved actors and actresses who have a huge fan following all over the world.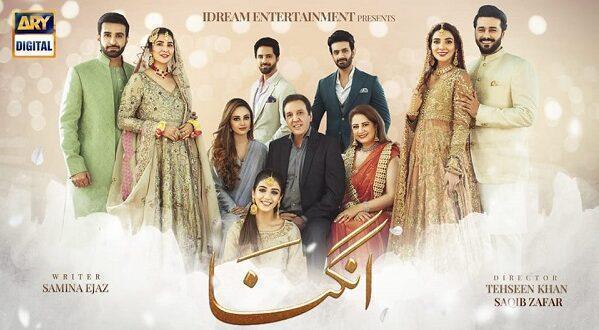 This is a family drama for the fans who enjoy the typical saas bahu tussles and nand bhabi issues. The cast of the drama includes mega stars of the Pakistani industry whereas the team behind the drama has worked on many super hit drama serials that became favorites all over the world.
Here is everything you need to know about the drama serial Angna and what you can expect from it.
Cast of the Drama Serial
The drama serial Angna will be aired soon and will feature some of the biggest names from the industry. It features very talented actors in the lead role while the remaining cast has years of experience and a huge fan following to make the drama interesting for the masses.
Here is the complete cast of Angna:
Areeba Habib
Ali Abbas
Azfar Rehman
Rubab Hasim
Kanwal Khan
Laiba KKhan
Asim Mehmood
Daniyal Afzal
Sajjad Pal
Atiqa Odho
Javed Sheikh
Asim Mehboob
Rubina Ashraf
Gul-e-Rana
Azfar Reham, Rubab Hasim, Areeba Habib and Ali Abbas will be appearing in the lead roles whereas the rest of the cast will appear in the supporting roles. Rubab Hashim is paired up with Ali Abbas whereas Azfar Rehman is paired up with Areeba Habib.
Details of the Drama Serial Angna
The drama serial Angna is a family drama that is written by Samina Ijaz, who has previously written dramas such as Dikhawa, super hit drama Phaans, Yariyan and more. It is directed by Tehseen Khan who has directed some of the biggest hit dramas such as Mere Apne, Mala Mir, Babul Ka Angna and more.
Joining him as the director is Saqib Zafar, who has previously directed dramas such as Mann-e-Iltija and Mujhe Wida Kar. The drama is produced under the banner of iDream Entertainment. Not much is revealed about the drama, the teasers reveal the story will be about family issues and marriages.
The drama is expected to be aired sometime this month. However, the actual release date, time and OST have not been announced just yet, but it is expected that we will get it very soon.