Another two new teasers for another new drama on Hum TV and this one is called Sitam. Supposed to be an emotionally charged drama, Sitam will feature some of incredible names from the drama industry. The TV channel is gearing up to tease their audience with their upcoming dramas before the month of Ramadan ends along with their Ramadan special series.
The new drama serial Sitam is a romantic drama that will focus on the lives of three individuals. After considering the success of previous such dramas on Hum TV, it is expected that this one will be a success as well.
Cast of the Drama Serial
The cast of the drama features some of the biggest names in the industry. Some of them have already made a name for themselves and the audience expects incredible performance by them.
Here is the complete cast list of the upcoming drama serial Sitam.
Moomal Khalid
Nawal Saeed
Mohammad Usama Khan
Kiran Tabir
Saad Qureshi
Waseej Tirmazi
Afraaz Rasool
Marie Bhatti
Laila Wasti
Talia Jan
Azra Mohyeddin
Farah Nadeem
Ayesha Khan
Areej Chaudhary
Usman Javed
Areesha
Sara Malik
Ayaz Mughal,
Farhaad Riaz
Imran Baloch
Saba Shehzadi
Salma
More members of the cast list will be revealed as Hum TV reveals more information about the drama.
Details of Drama Serial Sitam
Nawal Saeed is playing the role of Feriha, Moomal Khalid is playing the role of Aashi, Suama Khan is played a character called Shayan, Saad Qureshi's character will be called Salman and Kiran Tabir's character will be called Abeer. Waseem Tirmari's character is named Humayoun while Marie Bhatti's character is named Zoya.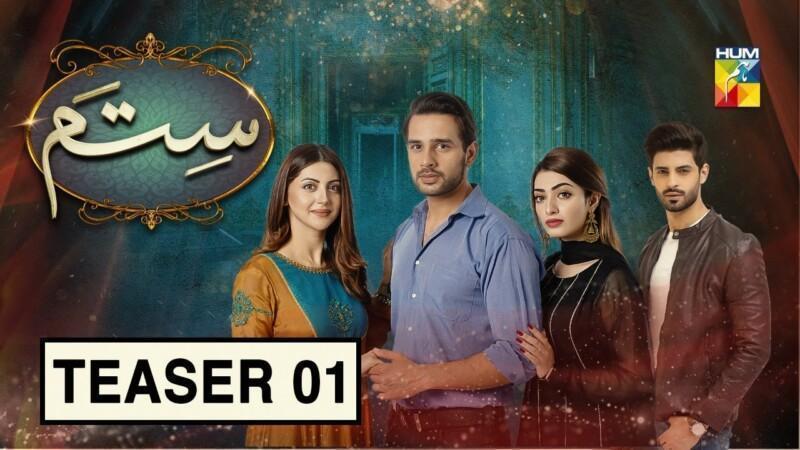 The story will follow Feriha, Aashi and Shayan. Shayan and Aashi will fall in love but their love is not meant to be. After his family pressures him, Shayan decides to not marry Aashi but marry Feriha, even if it causes heartbreak for them. He was pressured to marry her because his sister was married to Feriha's brother. After that, the story will follow Feriha's life as she struggles to accept her future without Shayan and what it brings to her.
The drama serial Sitam is written by Rizwan Ahmed and is directed by Kamran Akbar. The drama is produced under the banner of Momina Duraid Production and Gold Bridge Media Production. The drama is expected to be aired right after Eid this year.