Danish Taimoor and Dur e Fishan are the two most promising actors in the showbiz industry. It wouldn't be wrong to call them trp king and queen who knows how to grab the audience's attention. What if both the actors get united for the same serial? Yes, it's actually going to happen.
ARY, HUM, and GEO are coming with some fresh pairs, and we love them. Where we would be able to see a captivating pair of Sajal Ali and Azan Sami in a drama serial, there are many other pairs who have got our attention, among which this new pair is also worth watching.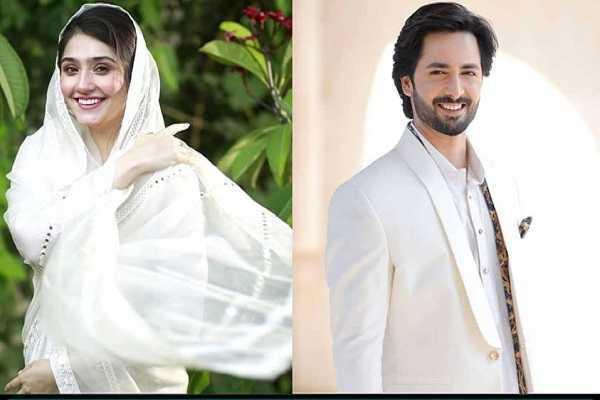 Drama Serial Ishq e Junoon Cast
Danish Taimoor, whose current ongoing drama serial Ishq Hai is winning the trp charts, is now again coming in another exciting project named Ishq e Junoon. He is best known for portraying the role of the angry lover.
On the other hand, Dur e Fishan, despite being a newcomer ahs already hooked us with her fantastic acting. She is currently seen playing the role of Aymen in the drama serial Pardes. Both are the main leads of the drama Ishq e Junoon.
The rest of the cast is yet to reveal, but we are sure that another mega-hit project is on its way due to a stellar onscreen couple.
More Details
This mega project will be on-air under the banner of idreams production, whose current drama serial Pehli Si Mohabbat is also winning hearts. On the other hand, Radain Shah is the writer of this serial who has written some blockbuster serials.
Furthermore, Ahmed Bhatti is the director who has recently directed Ghissi Pitti Mohabbat that was highly appreciated and welcomed. His serial 'Shehnai' was also praised. The serial will be on-air on the ARY channel that is already known for blockbuster serials.
Drama Serial Ishq e Junoon Story
However, the teasers of the serial are not out yet, and the shooting dates have also not been disclosed yet; we can expect it to be a tragic love story. The female lead Dur e Fishan also disclosed in one of her interviews that it will be a tragic love story.
We have already seen a lot of tragic love stories as Danish's recent serial Ishq Hai is also based on the same topic yet due to the fresh pair and amazing director, we are eagerly waiting for this one.