TCS has announced the TCS Home Based Jobs opportunity. Moreover, the programme is known as TCS Work from Home Programme April 2017.
TCS Home Based Jobs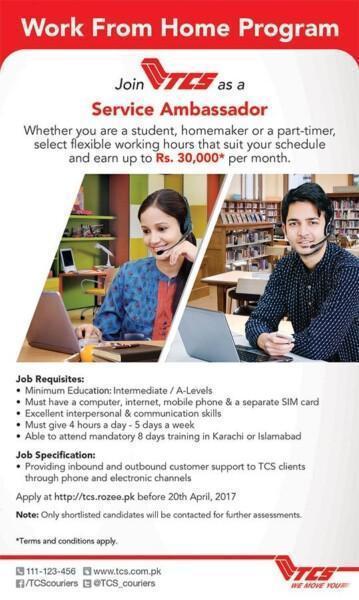 Careers opportunities have been announced by TCS, you just have to join a TCS as a Service Ambassador whether you are a student, homemaker or a part-timer. Moreover, the programme allows you to select flexible working hours that suit your schedule.
According to the TCS service, this job will help you to earn up to Rs. 30,000 per month.
Let us share the job details.
Job Requirements:
Minimum Education as required: The candidate must hold an intermediate / A-Levels degree.
Most importantly, the candidate must have a computer, a strong Internet connection, mobile phone and a separate SIM card
Excellent interpersonal and communication skills are required.
The job timings are really amazing. You have to give a minimum of 4 hours a day – 5 days a week.
Able to attend mandatory 8 days training in Karachi or Islamabad
Job Specification:
Providing inbound and outbound customer support to TCS clients through phone and electronic channels
Engages the existing and potential customers to establish trust and building rewarding working relationships.
Maintains Company's service standards by exercising professionalism and empathy when dealing with customers and is focused towards creating a WOW experience for the customer.
Furthermore, conveys a consistent brand image that appeals to the customers.
Facilitates customers by explaining necessary procedures of TCS products and services.
Analyzes customers' needs and preferences correctly. Is well versed in evaluating options to choose the best solution for them.
Moreover, provides a full suite of customer services offerings (e.g. shipment status, tracking and other related queries) to customers contacting TCS via the customer service hotline & electronic channels timely and accurately.
Follow-up and makes scheduled call backs to customers where necessary.
Ensures that critical issues are highlighted and seek advice for resolutions.
Highlights areas for improvement with suggested solutions to improve TCSs procedures, technology, and service to positively enhance customers experience with TCS.
Apply before 20th April 2017
Note: Only shortlisted candidates will be contacted for further assessments.
*Terms and conditions apply.