Samsung's launch event last night certainly was full of excitement and an unexpected surprise. While the Galaxy S10 was supposed to be the highlight of the event, it was the Galaxy Fold that stole the show for some. But that doesn't mean that the Galaxy S10 wasn't amazing. Samsung, yet again, has lived up to the expectations with their latest flagship, the Galaxy S10.
Samsung Galaxy S10, S10 Plus and S10e
The Samsung Galaxy S10 surely seems like the perfect smartphone. From the simple-yet-beautiful design to the heavily packed internals, the Galaxy S10 trio has something to offer for everyone.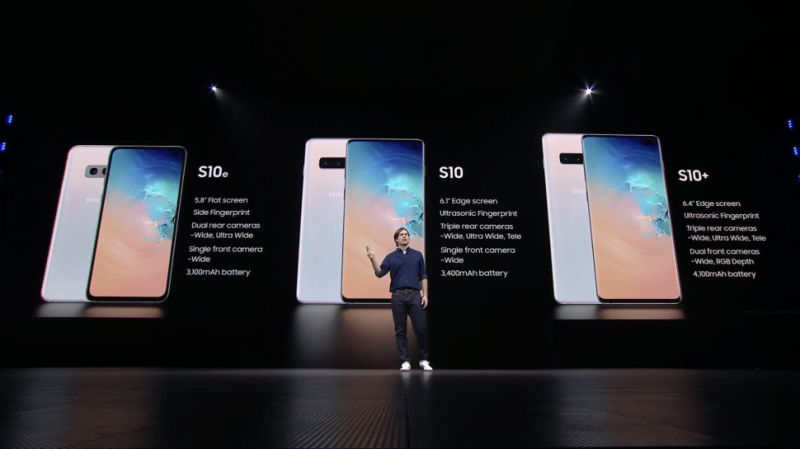 Here are the specifications of the phones if you haven't already seen these.
S10 Plus
S10
S10e
Display
6.4" Dynamic AMOLED
6.1" Dynamic AMOLED
5.8" Dynamic AMOLED
Resolution
3040 x 1440 Pixels
3040 x 1440 Pixels
2280 x 1080 Pixels
Processer
SnapDragon 855
SnapDragon 855
SnapDragon 855
RAM/Storage
8-12GB/128-512GB
8GB/128-512GB
6-8GB/128-256GBA
OS
Android 9.0 Pie
Android 9.0 Pie
Android 9.0 Pie
Rear Camera
16MP Ultra wide-angle

12MP Standard

12MP Telephoto

16MP Ultra wide-angle

12MP Standard

12MP Telephoto

12MP Standard

16MP Ultra wide-angle

Front Camera
10MP + 8MP Dual Lens
10MP Lens
10MP Lens
Battery
4100 mAh
3400 mAh
3100 mAh
Water Resistance
IP68
IP68
IP68
Finger Print Sensor
Ultrasonic In-Display
Ultrasonic In-Display
Capacitive On Side
Ports
USB-C, 3.5mm Audio
USB-C, 3.5mm Audio
USB-C, 3.5mm Audio
Samsung Galaxy Fold
Samsung jut became the first mainstream smartphone manufacturer to spearhead into the category of foldable smartphones when they announced the Galaxy Fold yesterday at San Francisco. The Galaxy Fold isn't just a concept phone that Samsung floated in the market to generate hype. Apparently, Samsung has done their homework and the Galaxy Fold is a reality that you could experience within a couple of months, much sooner than everyone anticipated.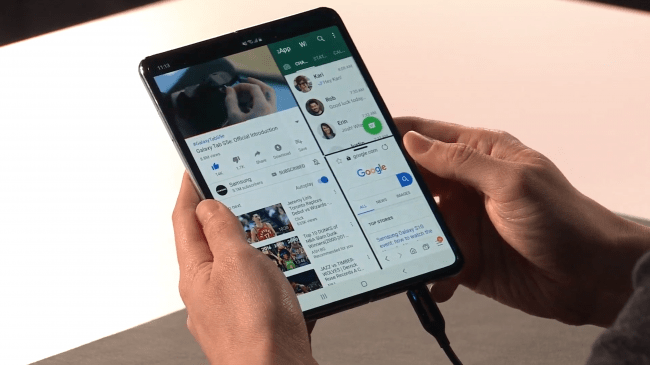 The Galaxy Fold is a smartphone with 4.6" Display that unfolds to serve as a tablet with display as big as 7.3". This device would come with 6 cameras in-total with 3 rear cameras comprising of a 12MP wide angle lens, a 12MP telephoto lens and a 16MP ultra wide-angle lens. The front would feature a 10MP plus an 8MP RGB depth camera lens. That's not all, this foldable device would also feature a 10MP cover camera lens. The Galaxy Fold would come with the SnapDragon 855, coupled with 512GB of built-in storage and 12GB of RAM and would be powered by a 4380 mAh battery.
As far as the availability and prices are concerned, the Galaxy fold would cost $1980 and would be available April 26 onwards.
Also Check Out: Galaxy S10 Plus vs Galaxy S9 Plus
Galaxy Watch, Fit and Buds
Phones weren't the only unveilings by Samsung. The Korean Giant also announced the Galaxy watch Active, Galaxy Fit/Fit-E and the Galaxy Buds.
The Galaxy Watch is just a sportier version of the Galaxy watch that comes with a heart-rate monitor, water resistance, lightweight aluminum build and ability to access smartphone notifications.
The Galaxy Fit is just a fitness tracker that records your heartbeat, steps, stress and sleep. Nothing that we haven't seen already.
The Galaxy Buds are Samsung's answer to the Apple AirPods. These Bluetooth-enabled rechargeable buds last for around 5-6 hours and cost around $150.
Samsung certainly had a great start to their 2019 and after disappointing revenues from their previous flagship, Samsung expects to lift the shareholder value with the Galaxy S10 trio and the Galaxy Fold of course.