One of the sacred places for Muslims and a close friend to Pakistan, Saudi Arabia is the place where Pakistanis go very often especially for Hajj and Umrah. Visa is required to travel to Saudi Arabia, guideline is provided below on how to get one.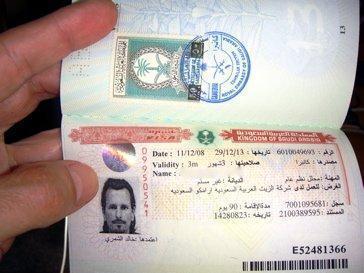 Procedure:
You need to know what kind of visa you want, there are many types out there some of them are Hajj, Umrah, Business Visa, Family visa, Government visa and many more. Required documents may vary depending on your visa type, procedure may also vary depending on visa you are applying for. Basic procedure is to fill out the form and submit at the embassy or online depending on the company you are getting visa from.
Document requirements:
Generally applicant must have following documents when applying for visa to KSA.
Original passport
CNIC NADRA Card
Passport size four photographs with blue background
Original visa
Passport copy along with IQAMA copy of Saudi sponsor (for certain visa types only).
Copy of passport of each family member (if applying for a family visa).
Visa Slip.
Return Ticket.
Educational certificate duly attested by Ministry Of Foreign Affairs.
O.C from the dependent relative in Pakistan.
"B" Form in case of child.
Polio vaccination card in case of child below than 15
Fee requirements:
Applicant has to pay the visa fee, medical fees and service charges when submitting the application. Visa fees depend on type of visa, type of entry etc. In case of Enjaz applicants can pay fees a Visa Service Centre or through the Enjaz website link. Normally cost for
The cost for family visit visa is PKR 4,850/-
E number is PKR 2000/-
Drop box charges are PKR 1000/-
Contact information:
You can contact Saudi embassy here:
Address No. 14, North Service Road, Diplomatic Enclave,G-4, Islamabad
Phone Number: 0092512600900
Email Address:pkemb@mofa.gov.sa