Haris Waheed is a fantastic actor and writer who rose to fame with his brilliant performances. He rose to fame with the drama serial 2017 drama serial Sammi, however, he previously made his debut in 2014. Haris belongs to a family that has deep roots in arts and theater, and he is further making his family proud with his performances.
Haris has not only shared his talent for acting but also for writing. With his credentials and accolades, Haris has truly made a name for himself in the industry with his talent. He also has roots deep into the media that go as far back as his great grandmother.
Here is his complete biography with a focus on everything you need to know about this talented actor.
Biography of Haris Waheed
Age
Haris Waheed was born on 2nd January 1994 in Karachi, Sindh, Pakistan. His zodiac sign is Capricon. He is just 27 years old and he has already claimed many awards and nominations for his fantastic acting abilities. He is 5 feet and 10 inches tall, which is very tall considering the Pakistani standards.
He was born in Karachi and he has always lived there. So far, he has appeared in multiple dramas and most of them have been critically acclaimed so far. He is one of the most sought-after actors in the industry. He is best known for supporting roles that add essence to the story.
Family and Parentage
Acting and writing is in his blood. Haris Waheed comes from a Kashmiri family that is based in Karachi. While he has never shared much information about his family and he has kept the names of them under wraps as well. He comes from a humble background but they all supported his dream of pursuing acting.
He is a direct great grandson of famous Indian actress Munawar Sultana who married his great grandfather Abdul Majeed Butt. However, the couple separated during the Partition of India in 1947. Haris has one brother who is not in the media industry.
Education
Haris Waheed received his early education from Karachi and has remained there for most of his education. He enrolled in National Academy of Performing Arts and started his graduation in Acting, Screenwriting and Directing. However, he didn't complete the degree and instead became an active member of the International Theater Festival of NAPA.
Relationship
Haris Waheed is married to actress Maryam Fatima. Maryam is an actress and model. The couple tied the knot in a simple ceremony that included their appearance in a court to sign the papers. The couple previously worked together in drama serial "Udaari." They got married in June of 2017.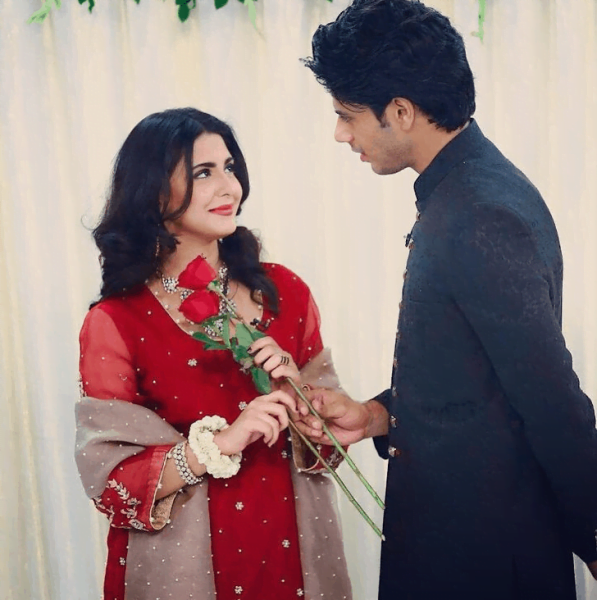 Becoming an Actor
Haris Waheed got his career debut with theater acting. He worked together with Naseeruddin Shah and Ratna Pathak. However, his big break came in 2014 when he got his first role in a drama serial. Here is a breakdown of all the dramas he has appeared in till date:
| | | |
| --- | --- | --- |
| Year | Title | Role |
| 2014 | Sadqay Tumhare | |
| 2015 | Alvida | Saim |
| 2016 | Mann Mayal | Mikael's friend |
| 2016 | Shaam Dhaley | Faizan |
| 2016 | Udaari | Ilyas |
| 2017 | Phir Wohi Mohabbat | Shahryar |
| 2017 | Sammi | Waqas Jutt |
| 2018 | Bisaat e Dil | Hannan |
| 2018 | Tu Jo Nahi | Sameer |
| 2018 | Ghughi | Sukh Chand |
| 2018 | Naulakha | Rohail |
| 2019 | Piya Naam Ka Diya | Ammar |
| 2019 | Do Bol | Zafar |
| 2019 | Pakeezah Phuppho | Bilal |
| 2019 | Mera Qasoor | Bilal |
| 2019 | Naqab Zan | Raheel |
| 2020 | Muqaddar | Hassan Sherazi |
| 2020 | Makafaat | |
| 2020 | Dikhawa | |
| 2020 | The Mazedaar Show | As Himself |
| 2020 | Mera Maan Rakhna | |
| 2020 | Aye Mohabbat | |
| 2020 | Aik Aur Munafiq | |
| 2020 | Kasa-e-Dil | Noman |
| 2021 | Qayamat | Saad |
| 2021 | Safar Tamam Howa | Nabeel |
| 2021 | Mujhe Wida Kar | Aneeq |
| 2021 | Dour | Adil |
| 2021 | Mohabbat Chor Di Maine | Bazil |
| 2021 | Dil-e-Momin | |