ICC has announced the ICC Men's Cricket World Cup 2023 schedule for the whole tournament. The 13th edition of the ICC Men's Cricket World Cup will be hosted by India from October 5 to November 19, 2023. The tournament will feature 10 teams, with the top 8 teams from the 2019 Cricket World Cup qualifying automatically and the remaining 2 teams being decided by a qualification tournament.
While there is a whole fiasco surrounding Pakistan and India matches, the rest of the tournament is expected to go through smoothly and without an issue. The schedule has been announced, however, the Pakistani cricket team's participation is subject to clearance from the government.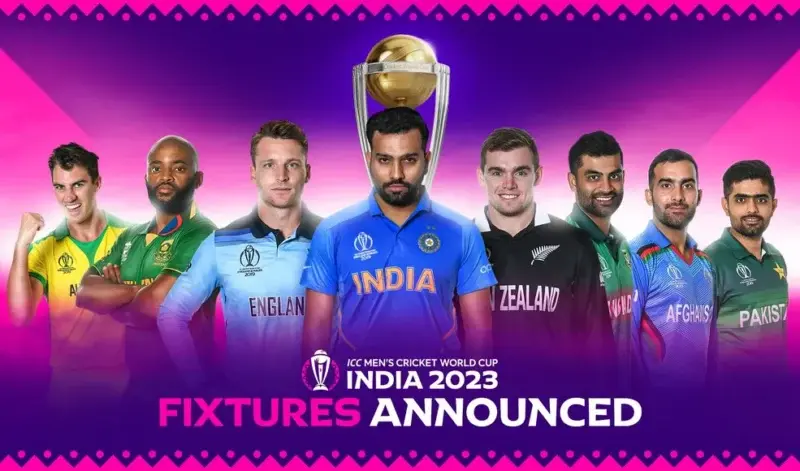 Stadiums Selected for the ICC Men's Cricket World Cup 2023
The opening match of the tournament will be played at the iconic Eden Gardens in Kolkata, while the final will be held at the Narendra Modi Stadium in Ahmedabad. The other venues for the tournament include:
Eden Gardens, Kolkata
Arun Jaitley Stadium, Delhi
Brabourne Stadium, Mumbai
Chinnaswamy Stadium, Bengaluru
Holkar Cricket Stadium, Indore
Chinnaswamy Stadium, Pune
Narendra Modi Stadium, Ahmedabad
PCA Stadium, Mohali
Punjab Cricket Association IS Bindra Stadium, Mohali
Wankhede Stadium, Mumbai
The tournament will be played in a round-robin format, with each team playing each other once. The top four teams from the group stage will then progress to the semi-finals, with the winners of the semi-finals meeting in the final.
Key Fixtures
The ICC Men's Cricket World Cup 2023 is sure to be a major event in the world of cricket, and it is sure to be a thrilling tournament. Here are some of the matches to look forward to.
England vs New Zealand
Pakistan vs India
India vs Australia
Australia vs South Africa
Pakistan vs Australia
Australia vs England
India vs England
England vs Pakistan
Read more: Squad for Pakistan vs Sri Lanka Test Series Announced|Shaheen Afridi Returns
ICC Men's Cricket World Cup 2023 Schedule
Here is the complete schedule for the tournament. Pakistani team, if they participate in the tournament, will play 9 of their matches in 5 destinations. However, the Pakistan government will decide if the team will travel to India or not.
| | | |
| --- | --- | --- |
| Fixture | Date | Venue |
| England vs New Zealand | 05-Oct | Ahmedabad |
| Pakistan vs Q1 | 06-Oct | Hyderabad |
| Bangladesh vs Afghanistan | 07-Oct | Dharamsala |
| South Africa vs Qualifier 2 | 07-Oct | Delhi |
| India vs Australia | 08-Oct | Chennai |
| New Zealand vs Q1 | 09-Oct | Hyderabad |
| England vs Bangladesh | 10-Oct | Dharamsala |
| India vs Afghanistan | 11-Oct | Delhi |
| Pakistan vs Q2 | 12-Oct | Hyderabad |
| Australia vs South Africa | 13-Oct | Lucknow |
| England vs Afghanistan | 14-Oct | Delhi |
| New Zealand vs Bangladesh | 14-Oct | Chennai |
| Pakistan vs India | 15-Oct | Ahmedabad |
| Australia vs Q2 | 16-Oct | Lucknow |
| South Africa vs Q1 | 17-Oct | Dharamsala |
| New Zealand vs Afghanistan | 18-Oct | Chennai |
| India vs Bangladesh | 19-Oct | Pune |
| Pakistan vs Australia | 20-Oct | Bengaluru |
| England vs South Africa | 21-Oct | Mumbai |
| Q1 vs Q2 | 21-Oct | Lucknow |
| India vs New Zealand | 22-Oct | Dharamsala |
| Pakistan vs Afghanistan | 23-Oct | Chennai |
| South Africa vs Bangladesh | 24-Oct | Mumbai |
| Australia vs Q1 | 25-Oct | Delhi |
| England vs Q2 | 26-Oct | Bengaluru |
| Pakistan vs South Africa | 27-Oct | Chennai |
| Q1 vs Bangladesh | 28-Oct | Kolkata |
| Australia vs New Zealand | 28-Oct | Dharamsala |
| India vs England | 29-Oct | Lucknow |
| Afghanistan vs Q2 | 30-Oct | Pune |
| Pakistan vs Bangladesh | 31-Oct | Kolkata |
| New Zealand vs South Africa | 01-Nov | Pune |
| India vs Q2 | 02-Nov | Mumbai |
| Q1 vs Afghanistan | 03-Nov | Lucknow |
| England vs Australia | 04-Nov | Ahmedabad |
| Pakistan vs New Zealand | 04-Nov | Bengaluru |
| India vs South Africa | 05-Nov | Kolkata |
| Bangladesh vs Q2 | 06-Nov | Delhi |
| Australia vs Afghanistan | 07-Nov | Mumbai |
| England vs Q1 | 08-Nov | Pune |
| New Zealand vs Q2 | 09-Nov | Bengaluru |
| South Africa vs Afghanistan | 10-Nov | Ahmedabad |
| India vs Q1 | 11-Nov | Bengaluru |
| Pakistan vs England | 12-Nov | Kolkata |
| Australia vs Bangladesh | 12-Nov | Pune |
| Semi-Final 1 | 15-Nov | Mumbai |
| Semi-Final 2 | 16-Nov | Kolkata |
| Final | 19-Nov | Ahmedabad |