Here is the Leaked Pictures of iPhone XC before Its Launching!!!
Security is one of the main factor in any organization. So we should keep our products safe and secure before its official launch. We heard much about the new range of devices by Apple Company. This range of new products would be on 12th September 2018 but unfortunately some pictures of iPhone XC have been leaked before its launch. There are only two days left for the official launch of iPhone XC. The most interesting part of this leak is the name of the new model iPhone XC. In the leaked pictures there is also the color variants of iPhone XC with much bright colors. Some unveiled or leaked information about new device named iPhone XC by the Apple Company are here for you.
All about Leakage of iPhone XC
The annual launch event of Apple Company is just two days away and a mishap has been happened. Some images of iPhone XC have been leaked before its launch. In the leak of iPhone XC there are "dummy models" of the new iPhone on Twitter. It has been also confirmed that this smartphone would come with 6.1-inch and a cheaper LCD display.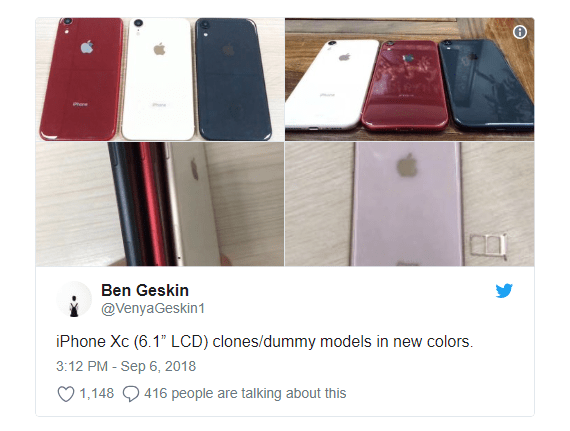 In the leaked pictures of this smartphone the color options are white, space gray, rose gold, and red. The devices feature the same back glass design as the current iPhones have. A report also suggested that 2018 could be the year in which Apple finally incorporates dual-SIM support in its iPhones. So according to some leaks it has been listen that this smartphone also has dual-SIM setup.
It would be much similar to iPhone 5c that was launched to serve as a cheaper option of the flagship. But the pictures have been leaked before the annual event of the company.
The analysts also believe that the company plans to unveil its three new smartphones in this year of 2018. All these smartphones would include a cheaper display using LCD screen technology.
Things are also in confusion as there are many mysteries about the devices. For the real and confirmed news we should wait only for two days as the mega event with excellent devices would be on 12th September 2018.
Related Article|New iPhone 9 Smartphone with 6.1-inch Display Screen| In 3 Shining Colors