Jazz brings new super duper card of worth Rs.600 in Pakistan. Earlier there was just of Rs.500 and Rs.800 super card or all in one hybrid bundles are available for Jazz Warid customers. Now get more off-net and on-net minutes with new Jazz Warid Rs.600 monthly super duper card.
The new card can be purchased from any nearest retailer's and you can also get it through via Jazz load. In this monthly hybrid bundle, Jazz customers can get 2000 Jazz Warid minutes, 150 other network minutes, 2000 SMS and 2000 MBs of Jazz 4G. In Rs.500 offer there are 100 other network minutes and 2000MBs of data. But Jazz didn't increased the data in new Rs.600 super card and only added more off-net mins, more Jazz Warid minutes and more SMS.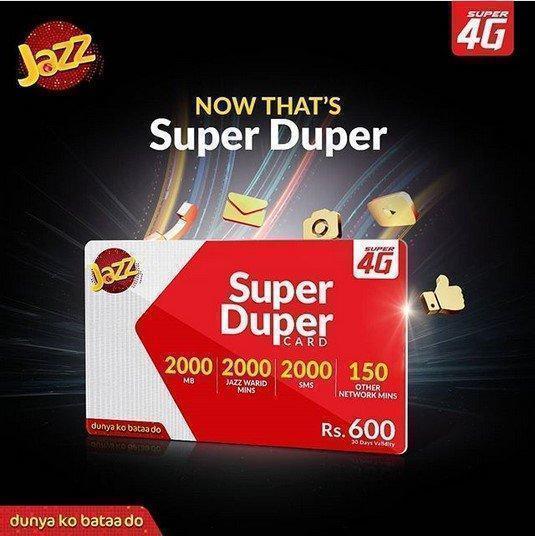 check out the comparison between Jazz Super Duper monthly offers;
Jazz Super Card Rs.600/Month
Internet: 2000 MBs
SMS: 2000
Other Network Minutes: 150
Jazz Warid Minutes: 2000
Validity: 30 Days Validity (Monthly)
To Subscribe: Dial *601# and *601*2# for Status of free resources.
Charges: Rs.625 (Incl. Tax)
On-Net Minutes: 2000 Jazz/ Warid Mins
Off-Net Minutes: 200 Minutes
Free SMS: 2000
Internet: 4000 MB
Subscription Code: *707#
Validity: 30 Days
Charges: Rs. 380 (Incl. Tax)
Subscription Code: *706#
On-Net Minutes: 1500 Jazz/ Warid Mins
Off-Net Minutes: 100 Minutes
Free SMS: 1500
Internet: 2000 MB
This bundle can be used by both Jazz prepaid and post paid customers. Jazz prepaid customers can subscribe this bundle as many time and the free incentives will be added to next 30 days validity. And the Postpaid customers can subscribe this only once in month. There is no call setup fee in Jazz super duper Rs.600 card. For complete Jazz Packages click on this link.