Jazz, one of the most popular telecommunication companies in Pakistan has done something unthinkable by developing Jazz Digit 4G. They have made the world's most affordable smartphone with 4G LTE capabilities and it does not even have a touchscreen.
Called the Jazz Digit 4G, this "Pakistan ka Smartphone" is ready to bring practicality and functionality to the smartphone. In a market when the smartphones are expensive when they have 4G capabilities, the new Digit 4G is a god given the people who crave high speed internet without having to spend PKR 14,000 and more.
Jazz Digit 4G Specifications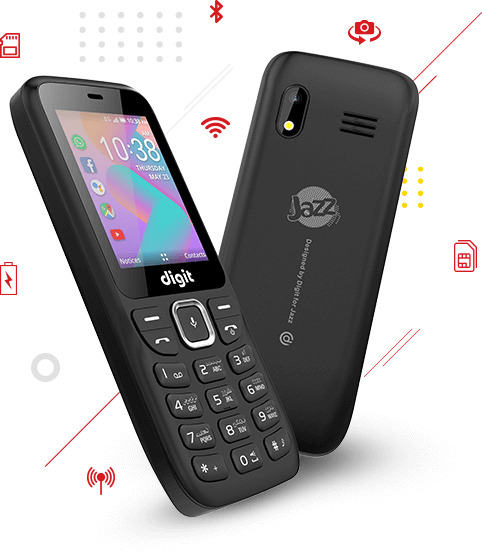 Jazz has partnered with KaiOS Technologies to release this phenomenon of a smartphone. Its features and specifications are:
A full color 2.4 inch display with vibrant colors
A MediaTek chipset
KaiOS operating system
Dual sim support.
Front VGA camera and 0.3 mega pixel rear camera
1400 mAh battery for a long talk time and battery time
Some other stand out features of the phone include:
512MB Ram
4GB Rom
Bluetooth
WiFi
Hotspot
Google Maps
Google Assistant
GPS
Google Search Engine support
Facebook
Whatsapp
YouTube.
Easy access to the KaiStore, the users of Jazz Digit 4G can download more than 200 apps and a lot more.
Pakistan ka No.1 Network laya Pakistan ka Smartphone! Aj hee Digit 4G 1799 rupay mein khareedein aur 300 rupay ki mahana iqsaat ada kar kay payein 1000 MB, Mins aur SMS!

Details ke liye, visit karein: https://t.co/4ILBzpjN1e#JazzSuper4G #DunyaKoBataaDo pic.twitter.com/8IhxTIs2a6

— Jazz (@jazzpk) July 27, 2020
The phone will come with a 12-month service agreement which will allow you to free use the use and not worry about anything at all. At the launch even, the CEO of Jazz, Aamir Ibrahim said "We want 2020 to start with this new device setting the benchmark for a nationwide 4G revolution. Yes, we have successfully tested 5G, but our biggest challenge and opportunity is to take 2G customers to 4G and to offer good quality broadband to every Pakistani. We saw an inequality, and we went ahead and tried to fix it with this affordable phone."
Sebastien Codeville, CEO of KaiOS Technologies said "We're excited to help bring a new device to the people of Pakistan. The digital divide continues to be a persistent issue across the country, but we know smart feature phones, like the Digit 4G, will positively impact the lives of new users."
CEO Digit, Mr. Abdul Rehman Mahmood said "Digit is a trusted name in the market. Our focus in launching this phone is using cutting-edge technology for durability, affordability and ease of use. The content and customized applications will allow every Pakistani to benefit from digitialization with access to services and products at their fingertips. The product comes with Digit's commitment of high quality and best after-sales services."
Price, Terms and Conditions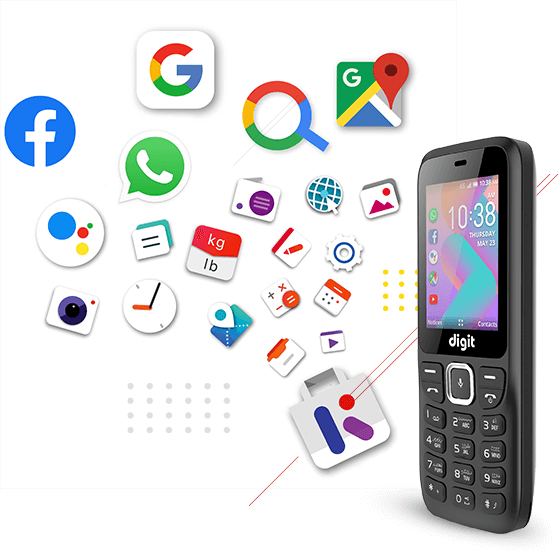 If you want to purchase this affordable smartphone, you will have to make an upfront payment of PKR 1,799 for the handset. You will get a 12 Month mobile bundle along with the phone and for that you will have to pay an extra PKR 300.
Simply dial *679# to activate the bundle
dial *679*2# to check the remaining 4G incentive data
you can dial *679*3# to get more information.
In this mandatory bundle, you will get:
1000 on-net minutes
1000 SMS
1000 MBs.
For the first three months, you can enjoy unlimited Facebook and Whatsapp usage (up to 5000 MBs) and get 2 months of free doctor services as well. If you don't take the bundle offer, you will have to pay PKR 4,200 for the phone. The phone can be purchased from Jazz Experience Centers. This smartphone is definitely for the history books.