Jazz Double Number – Subscription, Charges, Blocking, Making and Receiving Call and SMS
Having dual mobile and dual SIM mobile is now getting old now. Be a machine of efficiency while having a double number on a single SIM card. Almost all the telecom companies in Pakistan have offered this service just by dialing a single code. Jazz has also introduced this feature named jazz DoubleUp number through which a subscriber is allow to have a virtual number in addition to the primary number on the same SIM. This service is for prepaid subscribers only.
Jazz Double Number
The complete detail of Jazz Double Number including subscription code, charges, and features have been mentioned.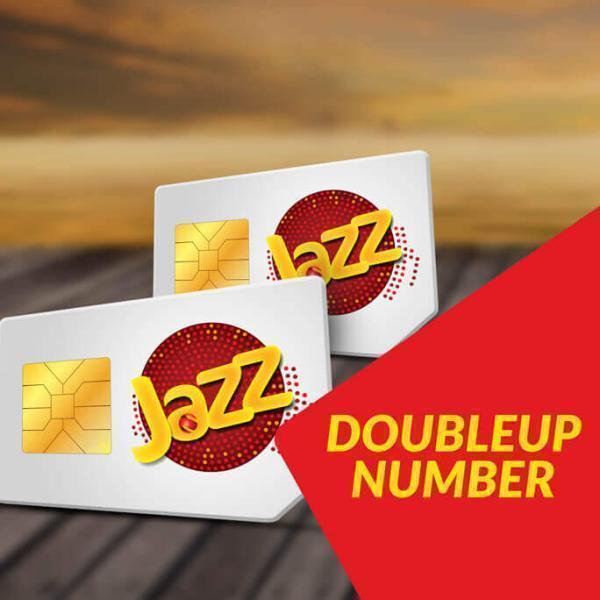 Offer Details:
The offer details for Jazz DoubleUp Number are as follows:
For Subscription: Dial 4030 and press '1′
For Un-subscription: Dial 4030 and press '0′
Charges for Subscription: PKR 1.43/Day
More Information:
Subscriber can upgrade their Jazz DoubleUP Number to use the following advance features.
Basic Bundle
Features:
Call Back Reminder
Meeting Point (Conference Call)
SMS into Web
SMS Signatures
Charges: Rs.10/month
Note: All the bundles can be subscribed at the same time and the user can also select a single bundle, too.
Subscriber can also upgrade these bundles via IVR. Dial on 4030 and Select Upgrade DoubleUP Number from Main Menu.
If you are a Zong customers then you can check this link which includes Everything You Need to Know About Zong Balance Share | Zong Yari Load
Details about Basic Bundle
Here are the complete details of all the above mentioned features of Jazz Basic bundle.
Call Back Reminder
If you are busy right now and can't pick up the call then you can set call back reminders for important calls. Moreover, if a Subscriber was not able to attend the last two calls in the last 10 minutes, from a particular recipient an SMS will be sent to subscriber to set a Call back reminder.
Meeting Room
If a subscriber want to schedule a meeting and invite the attendees to a meeting. Then he/she can schedule this meeting in Meeting Room by sending them a unique PIN. Through that unique PIN each meeting will be identified with this unique pin and can be sent to all the attendees.
Via IVR
Call on 4030 & Select "Meeting Point" to generate a PIN.
Via SMS
Type "MEETING" and send it to 4030
Via WEB
Meeting can be scheduled via "Conference Call" from the DoubleUP Number Website.
SMS into Web
All SMS received on Jazz DoubleUP Number will be automatically archived into the Subscriber's web.
SMS Signature
Subscriber can set their SMS Signature. These signatures will be automatically appeared at the end of each SMS.
Via SMS
Type "SIG" and send it to 4030. For Example: Sig Ahmer Masood Qazi
Via WEB
Signature can be set in "Account Setting" from the DoubleUP Number Website.
How to Use Your New Jazz Second Number
You can start using your DoubleUp Number immediately if you have sufficient balance to cover call charges. Your DoubleUp Number uses the available balance as your regular number so there is no need for any special recharge vouchers. The entire billing is conveniently consolidated against your primary Jazz number.
Making & Receiving Calls/SMS
If you want to make a call or send an SMS from your Jazz DoubleUp Number, simply add 88 before the number you are calling or messaging.
For example, if you want to call/send SMS to 030XXXXXXXX, you simply need to dial 88030XXXXXXXX.
In addition, the PTCL numbers can also receive and make calls to DoubleUp Numbers.
On the other hand, people who want to call/message you can easily do so by dialing your DoubleUp Number just as they would dial any regular Jazz number.
There is no need for them to add 88 prefix because when you receive a call or SMS on your DoubleUp Number the CLI displayed on your phone will have the 88 prefix before the calling party's number. This helps you identify the call on your DoubleUp Number.
Scheduling the Double Number
At times when you do not want to receive calls on your DoubleUp Number you can log-off from the service via IVR or SMS.
Dial 4030 from your phone and select 1 to log-off or 1 to log-on.
You can log-off or log-on via SMS to 4030 and manage your active / non-active states.
We also provide the facility to schedule log-off and log-on, in which case the service will automatically become inactive for the times specified by you.
With this control over the service's active / non-active state, you can easily keep your regular Jazz number on and not worry about receiving calls on your DoubleUp Number when you do not want to.
Block Unwanted Calls on Double Number
This is a subscription based feature for Jazz DoubleUp Number that allows you to control which numbers can call on your DoubleUp Number.
To subscribe for this useful feature dial 5929 or SMS 'sub' to 5929.
Once you are subscribed to this feature simply dial 5929, select 1 to add the numbers you want to block list. There is no limit on blocking the unwanted numbers.
To unblock any number simply select 2 after dialing 5929 and specify the number to be un-blocked.
You can also use SMS to block / un-block numbers by using the 'Block' & 'Unblock' command and send it to 5929.
Numbers on the block list cannot call on your Jazz DoubleUp Number until you unblock them. Blocked Number or callers will not be aware that you have blocked them, however, they will get a notification that the number is switched off.
Hope so, these details about Jazz DoubleUp Number would be helpful for you.