Jazz Islamabad Head office sealed by Federal Board of Revenue (FBR). In a surprising turn of events, the news broke the internet when it was announced by FBR on Wednesday that they have sealed Jazz/Mobilink's head office in Islamabad over nonpayment of tax.
Pakistan Mobile Communication Limited (PMCL) is more commonly known as Mobilink or Jazz in Pakistan. The news shocked the internet with its unexpectedness and frankly, no was expecting Jazz to have such a big tax deficit remaining.
Jazz Office Sealed Over Non-Tax Payment
The Federal Board or Revenue or FBR announced that Jazz has failed to pay Rs. 25.3 billion in income tax, which for the year 2018. The notice was issued to the company on the morning of Wednesday, 28th October, 2020 and the Jazz Islamabad Head office was sealed a few hours later.
The company had time until 1 pm Thursday, i.e. 29th October, 2020.
According to the statement released, "PMCL is an existing taxpayer falling in the jurisdiction of this office [LTU Islamabad]. An income tax amount of Rs25,393,653,480 was outstanding against the said company, which has been refraining from clearing its liabilities deliberately, dishonestly and without any lawful excuse, thus causing huge loss to the national exchequer," the documents read.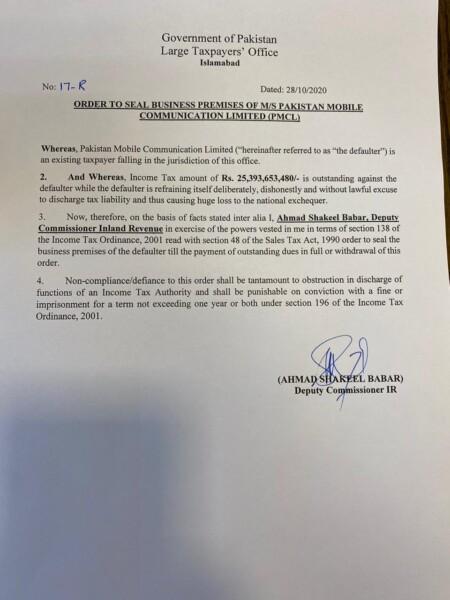 "Therefore, on the basis of facts stated inter alia, I, Ahmad Shakeel Babar, Deputy Commissioner Inland Revenue, in exercise of the powers vested in me in terms of section 138 of the Income Tax Ordinance, 2001 read with section 48 of the Sales Tax Act, 1990, order to seal the business premises of the defaulter till the payment of outstanding dues in full or withdrawal of this order."
In answer to this, Jazz released their own statement regarding the Jazz Islamabad Head office sealed, in which they said, "Jazz is a law-abiding and responsible corporate citizen. Our contribution to Pakistan's economy over the past 25 years is significant. We have received a notice from FBR this afternoon."
"Jazz has made tax submissions based on legal interpretations of the tax owed. We will review and take measures under our legal obligations and will collaborate with all concerned institutions for an early resolution of this issue."
The FBR's Islamabad Large Taxpayer Unit (LTU) created the demand for tax as well as surcharge in the tax year 2019.