The Prime Minister of Pakistan Imran Khan who promised to give jobs to the maximum Pakistanis is not fulfiling through his Kamyab Jawan Program. Yes, you heard it right. This program has been introduced by the Pakistan government where maximum people who are unemployed will be given loans to overcome poverty.
Those who are between 18 and 45 and have CNIC will be given Rs. 100,000 to Rs. 5,000,000 loan so that they can set their own small business. Furthermore, the tenure of the loan is 8 years. The banks that will provide loans include:
National Bank of Pakistan
Bank of Khyber
Bank of Punjab
Till now, only these banks are involved in this program but with time more commercial banks will be included in the loan distribution.
Kamyab Jawan Program
The state bank of Pakistan has come with a circular to all the Presidents and CEOs of different banks. The circular has complete details of this program that include:
In order to control the unemployment issue from the country, this special program formed by the Prime Minister has been introduced across the country. For all small business owners, a loan of Rs. 100,000 to Rs. 5,000,000 should be provided.
There are proper criteria set by the government for this program. Let's have a look at it.
Criteria For Kamyab Jawan Program
A few rules and regulations set by the government for Kamyab Jawan Program include:
People aged from 18 to 45 are eligible for this loan. The minimum age is 18. Furthermore, people without CNIC can't enrol for this loan.
The loan will be issued to those who are related to IT/ E-Commerce. Other than that, you can't apply for this loan and banks are restricted to providing loans to such people.
People who have just started their small business or are trying to run their already existing small business can also apply for this loan.
If you are already running IT/ E-Commerce then you should have at least a matric degree. If not, then the experience of a maximum of 6 months is required.
These are a few conditions applied for this loan distribution among youth.
Kamyab Jawan Program Loan Size
Now that you are aware of the terms and conditions applied for this loan, you should also brace yourself with the loan size.
Tier 1 loans- Rs 100,000 to Rs. 0.5 million
Tier 2 loans- Above Rs 0.5 million and up to Rs 5 million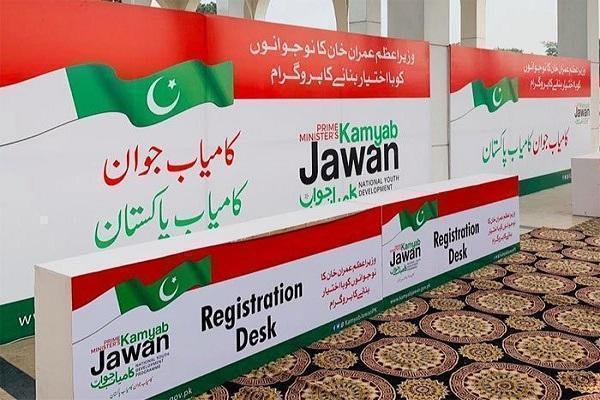 Kamyab Jawab Program Loan Types
There are different types of loans for which you can apply. It includes:
1- Loan Tenor
This loan is given with a time period of 8 years. Within 8 years you will have to send it back.
2- Debt to Equity Ratio
It is also divided into 2 phases. The T1 loan ratio is 90:10 while the T2 loan ratio is 80: 20. There is a special loan also introduced especially for women where 25% will be given to them.
Pricing
If you go for Working Capital and Term Loans then the pricing would be
T1 loans: 6% p.a. fixed for the borrower
T2 loans: 8% p.a. fixed for the borrower
Application Form
The application form that the borrower will fill would be both in Urdu and English. All the required information given in the form should be filled in properly. Within 15 days, the form should proceed for further queries. They might charge 100 Rs for the form.
Additional Measures
There are some additional measures applied in this process that are as follows:
If anyone is already running a small business then there should be a proper mechanism that ensures that the loan is used in a better way.
The banks that are included in this program are advised that all the defined mechanisms should be implemented throughout the process.
All the application forms should be available in the banks and on websites. A toll-free number of banks should be given on each loan application form.
The banks are also given notice that these programs would cease to exist.
Kamyab Jawan Program Form Download
You can get your hands on these forms from any branch of the above-mentioned banks. Furthermore, you can also download the form online. The application form fee is 100 Rs. Fill the form and apply for the loan in order to run your small business successfully.
The link to download the form is:
https://www.kamyabjawan.gov.pk/BankForm/newApplicantForm
Disclaimer: The Government announced this program at the start of Lockdown. Now it has been ended. Verify from official sources before applying.