After the success of other MG vehicles in Pakistan, MG HS Plug-In Hybrid will soon make its way to Pakistan. The MG HS was launched back in November of 2020 and since then it has become a hot favorite of Pakistani SUV enthusiasts.
The MG HS Plug-In Hybrid model is now being teased as the next major launch by MG and yes, this time it is really coming to Pakistan. At the moment, the plug-in hybrid model of the vehicle is currently displayed at the MG Lounge at Packages Mall, Lahore.
MG HS Plug-In Hybrid Making Its Way to Pakistan
MG Pakistan shared the good news with the fans on their official social media. They announced and gave the invitation to "come and witness Pakistan's first plug-in hybrid SUV." The post sharing a dashing picture of the vehicle carried the caption, "coming soon to the Pakistani roads."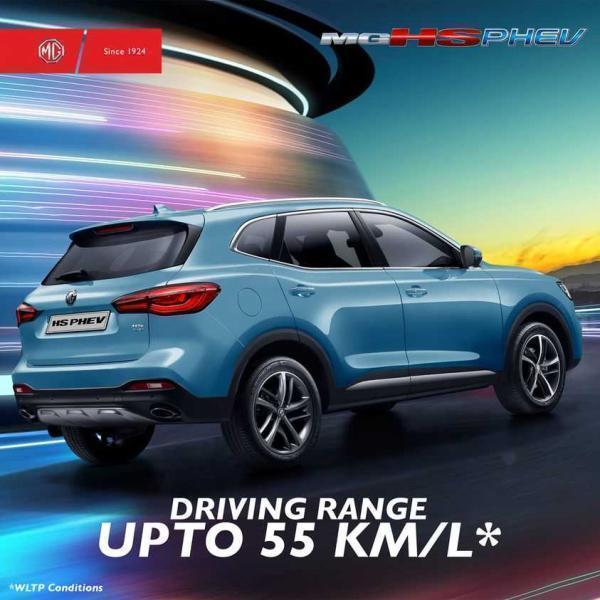 If it does come to Pakistan very soon, it can give serious competition to some of the biggest brand names in the country. For a long time, Toyota has enjoyed an SUV monopoly in Pakistan and this is about to be changed. When it does come, the MG HS Plug-In Hybrid will be Pakistan's first plug-in hybrid vehicle.
What You Need to Know About MG HS Plug-In Hybrid
The MG HS Plug-In Hybrid is perhaps the most powerful vehicle in the MG lineup. The vehicle will come with a combined driving range of up to 55 Km/L. The highlighting specifications of this one of a kind vehicle include:
It produces 256 Horsepower
It produces 370 Nm of torque
It comes with a 1.5 liter turbocharged 4-cylinder engine
The engine will be accompanied by 90 kW Hybrib Electric Motor
10 Speed Automatic Gearbox
The Hybrid SUV has a combined driving range of 55 Kilometers per liter
The vehicle can be charged overnight with a 7 kW fixed wall charger. The full charge will take up to 5 hours. Plus, the vehicle has regenerative braking system that will charge battery as you apply brakes, which will make a dream vehicle for Pakistani roads and traffic.
The vehicle will also come with many A-class luxury features and comfort features that are almost new to the Pakistani market. Some of the standout features include:
Panoramic sunroof
Heated and power seats
Rear and front electric windows
Six airbags
Tyre Pressure Monitoring System
18 Inch Diamond Cut Alloy Wheels
1 Infotainment System
Apple CarPlay
Android Auto
Forward Collision Warning System
LED Ambient Light
Lane Departure Warning
Automatic Emergency Braking
Traffic Jam Assist
360 Degree View Camera
Reverse Parking Sensors
Intelligent Cruise Assist
Adaptive Cruise Control System
Rear Cross-Traffic Alert
Blind Spot Detection
Speed Assistance System
Intelligent Headlamp Control
MG has yet to make an announcement about the price and the actual release date of the vehicle. Only time will tell when the MG HS Plug-In Hybrid will come. Until then, we can expect Javed Afridi to share tons of teasers with us in the meantime.