One of the most popular Pakistani actresses Minal Khan is well known for her amazing work. She acted in many Pakistani Television dramas. In a limited period, she gained popularity because of her great onscreen performance. Minal did many lead roles and attracted the audience with her remarkable performance. Without any doubt, she is known as a ravishing Pakistani actress who gained consideration with her eye-catching acting.
Minal khan biography
Minal, without any doubt is known as the ravishing yet rising Pakistani talent. She is considered as one of the females who gained the attention of thousands of people worldwide by performing in numerous drama serials. She is also a renowned model and is seen in many jazzy and classy dresses. Although she has performed in many evaluated serials but is seen besides many senior star performers. The ravishing actress is active on social media and always remains in touch with her sincere fans by sharing her weight loss journey and tips. Through her social accounts, she promotes many online pages and advertises a lot for prominent brands.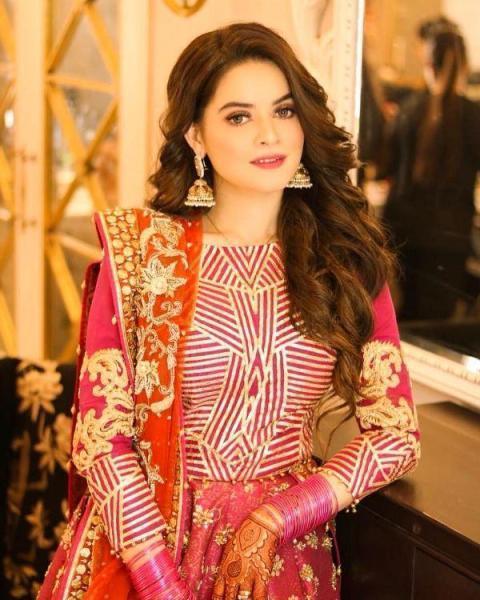 Minal khan age
Minal was born in 1998 on 20th November which makes her 23 years old with a zodiac sign Scorpio.
Minal khan education
She completed her matriculation from a local school in Karachi and got associated with showbiz and didn't pursue education further.
Minal khan family
Minal's family belongs from Karachi and the family setup is moderate. Her father contributed his services in the Pakistani Police Force who lost his life due to severe illness in December 2020. Her mother Uzma Mubeen is a housewife. Aiman Khan is her twin sister who is also a known Pakistani actress. Minal Khan has 3 younger brothers who are Maaz Khan, Huzaifa Khan, and Hammad Khan. Minal is very close to her twin sister due to which they are often known as AimanMinal.
Minal khan husband
Minal stayed in a relationship with Manzoor for many years. Unfortunately, their relationship won't work out. Manzoor is not very much associated with media but is seen with Minal on Aiman`s dholki but she got engaged to Ahsan Mohsin in 2021 on 18th May. She met Mohsin on the drama serial set "Parchayee". Minal was friends with Ahsan Mohsin for a long time who is also a Pakistani actor and an entrepreneur. After the engagement, the couple shared their moments on social platforms due to which they also got trolled and criticized by the public. They got married on 10th September 2021 and the wedding pics hit the social platforms.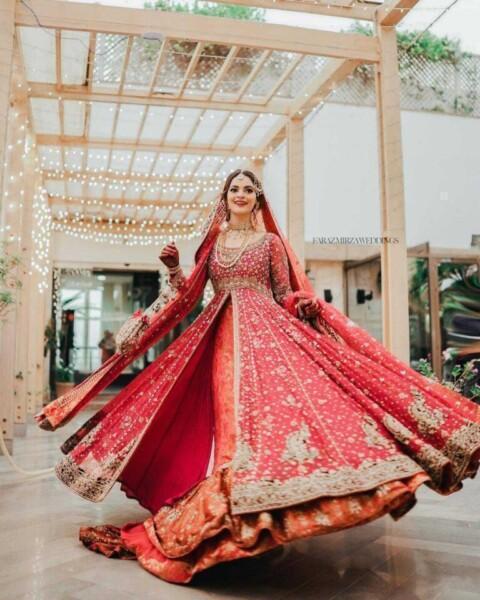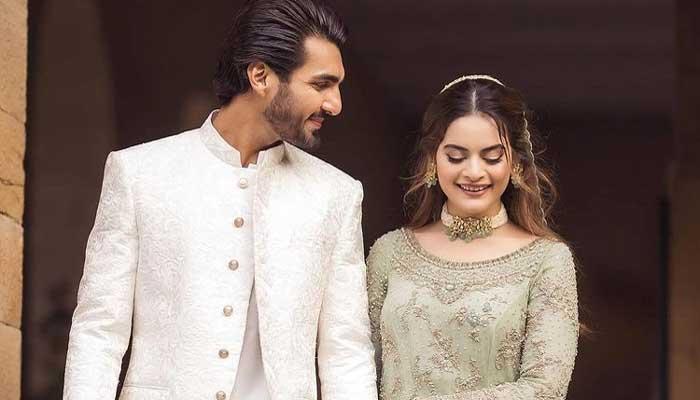 Minal khan career
The diva started her acting at the age of 14 years and even at such a young age she impressed many people with her confidence and performance. In 2011 she performed in "Kaash Main Teri Beti Na Hoti" drama. While in 2012, she made a debut performance in "Qudoosi Sahab kiBewa". In 2013, she was seen with her sister Aiman Khan, Faysal Qureshi, and Yasra Rizvi in the drama "Mann Ke Moti". Her drama "Mohabbat Jaye Bhar Mein" was a hit and she played a character of a school-going girl due to which she received ubiquity and notoriety. She gained wide recognition by appearing in the supporting role in romantic drama "Mol", and "Mere Meharbaan" and other comedy-dramas such as "Joru ka Ghulam", "Mithu our Appa" and "Hum Sab Ajeeb Se Hain". She is surely one of the committed and enthused personalities who want to accomplish her acting goals.
Minal khan dramas          
Following are the names of dramas in which she did the best acting:
Qismat
Jalan
Nand
Ishq Hai
Hassad
Ghamand
Ki Jana Mai Kon
Laut k chalay Ana
Dil Nawaz
Parchaye
Sun Yaara
Hum Sab Ajeeb Say Hain
Joru ka Ghulam
Gila Kiss se Karain
Mere Meharbaan
Adhoori Aurat
Qudoosi Sahab ki Bewa
Minal khan achievements
It is true that Minal Khan owns stunning ability and showed aptitudes at a young age with her great performance and also in the field of modeling. Both sisters, Aiman Khan, and Minal Khan run their clothing brand with the name AimanMinal Closet where they only focused and featured western clothes and added eastern touch. The brand started in the year 2019.