Aiman Khan is a young, beautiful, and good-looking actress, model, and social media influencer of the Pakistan entertainment industry. She came as a child star in the industry and took everyone's attention towards herself with her acting skills and innocence. Nobody knew that this chubby kid would grow up to be such a gorgeous girl. She has received an immense amount of love from her audience worldwide.  She won the title of most-followed Instagram celebrity in 2020, with 8 million followers. If you want to know about Aiman, then you are at the right place, here will be the complete information about Aiman khan's biography, Aiman khan's age, Aiman khan's education, Aiman khan family, Aiman khan husband, Aiman khan career, and Aiman khan awards.
Aiman Khan Biography
Aiman is a gorgeous actress of the Pakistan showbiz industry, who joined as a child star and, within no time, she became the lead actress of Pakistan showbiz industry. Aiman Khan is also famous as a social media influencer with 8 million followers on Instagram. She received a lot of criticism for buying Instagram followers that she rarely bothers. She started working at the age of 13 in TV commercials. She made her acting debut in ATV as a Child Star. She received a lot of appreciation for her work in the famous Drama serial "Ishq Tamasha". Aiman is also running a clothing brand with her sister Minal khan and recently launched her fragrance.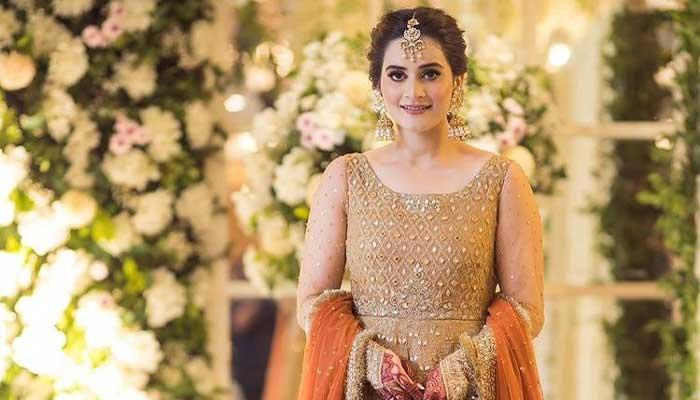 Aiman khan age
Aiman, the alluring face of the Pakistan entertainment industry, was born on 20 November 1998, with her twin sister Minal Khan, in Karachi. Both the sisters have a difference of 28 minutes only. She is 23 years old, now in 2021. Her age is always a controversial topic on social media.
Aiman khan Education
Aiman completed her matriculation from a local school in Karachi and she left her studies as she joined showbiz. She completed her graduation later on with her professional life.
Aiman Khan Family
Aiman belongs to a traditional and well-established family, where asa her father Mubeen khan was a police officer in Sindh police, and her mother Uzma is a housewife. She shared a beautiful and strong bond with her father; she said that she was like a son to her father. Her father was her support system throughout the journey and never left her alone. In 2020, she lost her father due to lungs failure, which saddens her to the core of her heart.
Aiman khan has a twin sister Minal khan, which is also a young and talented actress in the showbiz industry. Minal Khan earned a lot of success after the drama serial "Jalan". Twin sisters share a quite wonderful bond and always admire each other. She has younger brothers Hammad khan, Huzaifa khan and, maaz khan. Hammad and Huzaifa are also twins, Maaz; the elder among them also manages the Aiman clothing brand along with her.
Aiman khan Husband
Aiman khan got married to an incredible actor Muneeb butt in November 2018, in a star-studded event. Her husband Muneeb butt is 12 years younger than she is. Due to their significant age gap, Muneeb butt first considered her as a younger sister but later on, they became good friends and their friendship turned into a relationship and they were in a relationship for 5 years. They are among the youngest celebrities of the Pakistan showbiz industry to get married. Aiman Khan and Muneeb butt received a lot of criticism,after the longest wedding of the year.The couple has blessed with a daughter, Amal Muneeb, On 30 August 2019. Everyone on social media also loves their daughter.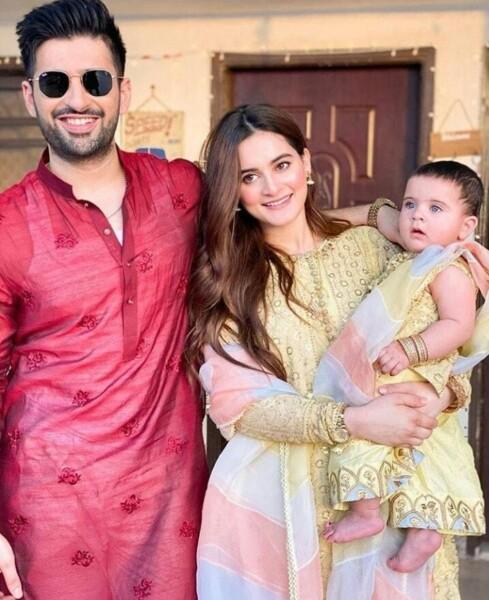 Aiman khan career
She started working as a child star at the age of 13 and proved herself in a very short period. She made her acting debut in 2012, with the HUM TV Drama serial 'Muhabbat Bhar Main Jaye' along with Sajal Aly, Resham, Adnan Siddique, and Hina Dilpazeer. She played the role of Rani in the direction of Mazhar Moin. She received a good response after her debut serial and impressed everybody; soon she started receiving a lot of work. After a year, in 2013 she worked as a supporting actress in three super hit drama serials 'Man K Moti,' 'Meri Beti' and, 'Behaad.' This is how people started recognizing her and her career started. Aiman khan's supporting role in the popular drama serial 'Man Mayal' along with Hamza Ali Abbasi and Maya Ali gave rise to her career and she appeared as a prominent actress. She has done a lot of supporting roles in various drama serials.
After the struggle of many years, in 2017 she started getting leading roles with famous artists. Everyone cherished her character Mashal in 'Khaali Hath' with Shehzad sheikh and Ali Abbas. 'Ghartitlika Par' and 'IshqTamasha' are among her super hit drama serials. She played the role of Biya inthe drama serial 'Baydardi' opposite AffanWaheed and Bushra Ansari with a strong social message and left a great impact on the audience. She has also done a telefilm 'khana khud garam Karo with Affan Waheed. She played the role of a poor girl in the drama serial 'Baandi' with her husband Muneeb butt, based on the concept of the feudal system gave a strong message to the audience. 'Baandi' was her last acting project since she is married.
Currently, she is running her clothing brand 'Aiman Minal Closet' along with her sister. The talented duo also received immense support for her brand. Like many other celebrities, Aiman khan also launched her perfume in 2021.
Aiman khan dramas
2012 Mohabbat Jaye Bhar Mein
2013 Meri Beti
2013 Mann KeMoti
2013 Behadd                Sara
2014 JoruKa Ghulam Anaya
2014 Digest Writer
2015 Bay Qasoor
2015 KhatoonManzil Kukku
2015 Sehra Main Safar
2015 Lucknow Wale Lateefullah
2016 Mann Mayal
2016 KhwabSaraye
2016 IssKhamoshiKaMatlab
2016 KitniGirhainBaaki Hain (Season 2)
2017 Zindaan
2017 YehIshq Hai
2017 KitniGirhainBaaki Hain (Season 2)
2017 KhaaliHaath
2017 Hari HariChuriyaan
2017 GharTitliKa Par
2018 Kaif-e-Baharan
2018 IshqTamasha
2018 Bay Dardi
2018 KhanaKhudGaramKaro
2018 Baandi
Aiman khan awards and nominations
7th HUM Awards
IshqTamasha
Best Actress

Best On-screen couple along with Junaid Khan

Nominated
7th HUM Awards
Baandi
Best Actress

Best On-screen couple along with Junaid Khan

Nominated

8th HUM Awards
Social media
Most followed Celebrity
Won
Also Read: Iqra Aziz | Biography, Age, Husband, Education & Career