The Full Process of getting NADRA Marriage Registration Certificate in Pakistan…!!!
Some departments are providing the vital role in the betterment of Pakistan and its people. In this regard NADRA is one of those departments that is providing various services and certificates to the Pakistani public. The citizen of Pakistan must be registered in NADRA if he want to live in Pakistan. There are many certificates that are issued by this authority and two certificates as Birth Registration Certificate and Marriage Registration Certificate are most popular. The NADRA Marriage Registration Certificate (MRC) in Pakistan is very important and strong document. It is a proof of marriage record between two persons in Pakistan and two types of marriage certificates are mostly used in Pakistan as Urdu Nikkah Nama and English Marriage Certificate. Now the Marriage Certificate issued by NADRA is fully computerized and more authentic document that can be used in all legal forums. Here I am going to describe the both types of marriage certificates with details. The complete procedure and the documents required for getting NADRA Marriage Registration Certificate Online are given in below section.
Need of NADRA Marriage Registration Certificate
There is an essential need of MRC for the residence of Pakistan as it can be used in various purposes. These are as follows:
In foreign countries to prove marriage contract
For immigration purpose
To get family Visa
In Divorce matters
In all legal matters
1. Nikkah Nama/Manual Certificate
When the wedding occurs and the marriage is solemnized by nikkah khawan also known as molvi, he enters all the particulars of bride and groom along with two witnesses on Nikkah Nama. This document consists of 3 copies from which one copy is for the married couple and remaining are for NADRA and Union council as a record. To get Nikkah Nama is compulsory for married person under Muslim family law ordinance 1961. Here is a sample picture of Nikah Nama in Urdu.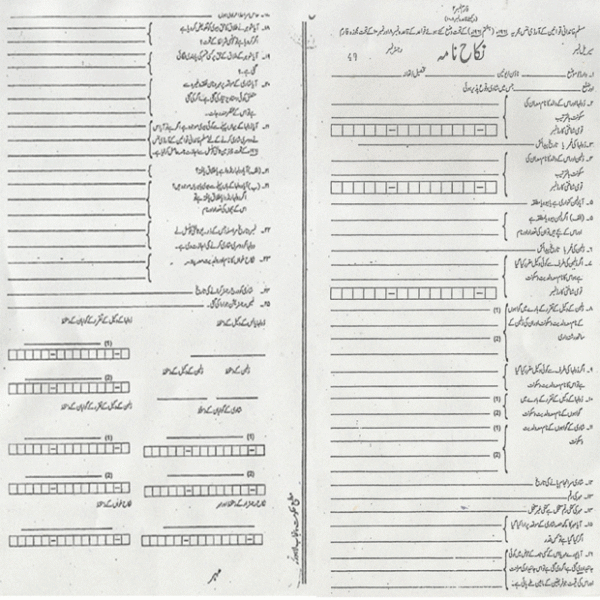 2. NADRA Marriage Registration Certificate
If you have got Urdu nikah nama from nikah khawan then you would be able to get NADRA Marriage Registration Certificate. The Urdu Nikkah Nama is used to get NADRA Marriage Registration Certificate. It is a computerized document that contains full information about married people. NADRA does not issues marriage certificate directly it has a special system for this purpose.
If you may want securer and efficient way for money transfer and receiving in Pakistan via PayPal then you can get your own Verified PayPal Account in Pakistan now.
Marriage Certificate Issuing Authorities:
Here are the higher authorities in Pakistan which issues this certificate these are as follows:
Union Council
TMA Office
Cantonment Board Office
Arbitration Council in Islamabad
Documents required for getting MRC
Before going to any nearest NARDA Office you need to know about the documents that are necessary for getting NADRA MRC. These are as follows:
CNIC copy of groom
CNIC copy of bride
CNIC copy of bride's mother and father
CNIC copy of groom's mother and father
CNIC copy of Molvi (Nikkah Khawan)
Copy of Manual Marriage Certificate (Nikkah Nama)
Process to Get NADRA Marriage Registration Certificate in Pakistan:
First you need to ready all the above listed documents
After this go to the relevant issuing authorities in your areas
The authorities would give you an application form to fill before they issue NADRA marriage certificate.
Submit the complete documents along-with filled application form with the official fee
After this you must read the certificate that you got and check all your contents either they are correct or not. Check your particulars on marriage certificate and match them with your official documents.
You may ask for correction if there is any mistake by the issuing office.