Here is the New Oppo A9x Smartphone (Latest Version of Oppo A9)!!!
The list of upcoming smartphones is growing day by day as many new smartphones are coming on daily basis. Therefore, the competition among the top mobile phone companies is also become an increasing point. All the top mobile phone companies are trying to defeat its successor company and want to stand first in the list. A new smartphone is also included in the list of top smartphones of the Oppo Phone. Today company announced its latest phone named Oppo A9x that is the latest version of recently launched Oppo A9. The main features that are extended in Oppo A9x are the replacement of 48MP sensor with 16MP and 4020 mAh battery capacity with the support of VOOC 3.0 fast charging. The more features are described in the below section.
More Powerful Version
Last month Oppo Company announced the Oppo A9 smartphone with many surprising features and today, company announced its latest version named Oppo A9x. It is the more powerful version of the previous Oppo A9 model. Some changes are made in this phone that would be liked by the users.
In the latest more powerful version, the first slightly updated feature is the change of 48MP main sensor at the back which was the 16MP on the A9.
The second difference between the A9 and A9x is in its battery capacity. Both Oppo's smartphones pack a 4,020 mAh, but the latest A9x comes with the support for VOOC 3.0 fast charging which was missing in the previous A9.
The company's one more smartphone named Oppo K3 would also come on May 23, 2019 including 16MP selfie camera and dual rear camera setup of 16MP + 2PM.
The hardware specs are mostly same as the Oppo A9 and the A9x has the following:
Helio P70 SoC
Android Pie-based ColorOS 6
6GB RAM
128GB of storage onboard
6.53-inch FHD+ display
48MP main sensor
16MP selfie shooter
4,020 mAh with VOOC 3.0 fast charging
Available in Meteorite Black and Ice Jade White colors
Priced at CNY1999 ($289)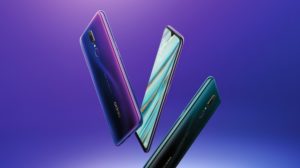 The latest Oppo A9x is priced at CNY1999 ($289) and would go on sale in China from May 21, 2019. After the official launch it would be available in the other countries and you will get it in your hands.