Key Specs of The Latest Oppo K3 Smartphone are Here for Photo Lovers!!!
The Chinese phone maker Oppo has become one of the top mobile phone manufacture nowadays, many smartphones are liked by the users due to its best features and specs. These smartphones include the best photography material for the photo and selfie lovers. The smartphones due to the high quality camera results are very popular among the users. This time Oppo Company is going to unveil its next smartphone named Oppo K3 on May 23, 2019.  This phone would be unveiled in an event in China at 2PM. There is not much disclosed about Oppo K3 smartphone but only some specs are unveiled yet. In the leaked specs it includes a 6.5-inch FHD+ AMOLED panel display, 16MP selfie camera and dual rear camera setup of 16MP + 2PM. In its battery capacity the upcoming Oppo K3 Smartphone supports 3,700 mAh battery with 20W VOOC 3.0 fast charging. The detail of these features is given in the below section.
Oppo K3 Smartphone
Smartphones are become the most integral part of our lives today, no one can remain without this device.  To keep in mind this need of smartphones many mobile phone companies are launching the new smartphones with extra high features for their users. Not only the top mobile phone companies are manufacturing mobile phones but also the other county's mobile companies are announcing the best smartphones for the users. The Chinese phone maker Oppo is going to announce the upcoming Oppo K3 Smartphone on May 23, 2019 at China in an event at 2PM. We are not able to know more about the Oppo K3 Smartphone but only some key specs are leaked yet.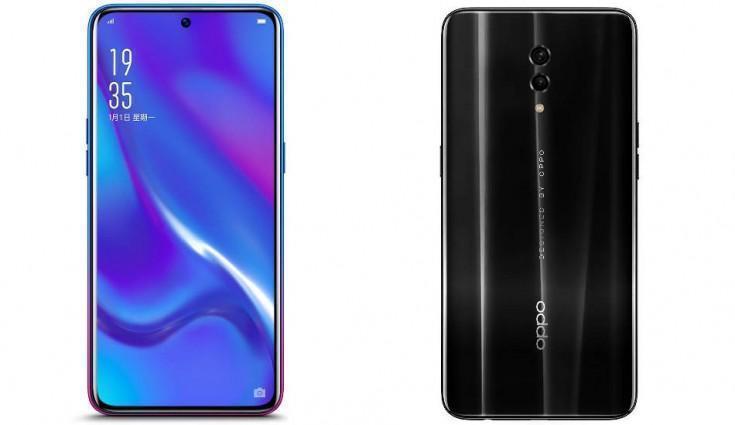 The company will also launch New Oppo Reno Smartphone with 48 MP + 5 MP rear camera setup and 32 MP selfie shooter.
Unveiled Specs:
The first specs of Oppo K3 Smartphone includes that the smartphone will be powered by the Snapdragon 710 SoC.
There is also a 6.5-inch FHD+ AMOLED panel with a fingerprint scanner with it.
In order to its photography feature Oppo K3 includes a 16MP shark fin-style selfie camera like the Reno.
On the other hand at the back, there will be a dual camera setup with the combination of 16MP and 2MP sensors.
The last leaked feature but not the least is its battery capacity, the upcoming K3 is said to pack a 3700 mAh battery with 20W VOOC 3.0 fast charging.
Unveiling Date: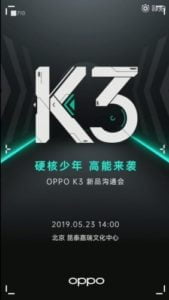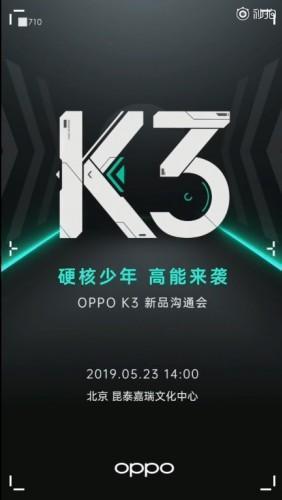 The company announce to launch the new Oppo K3 Smartphone in China during an event at 2PM on May 23, 2019. This phone would come in the next week for Chinese people. Stay tuned with us for more updates as we know more about it on its official launch in the next week.