Passengers will Get Trains Schedule by Mobile App (Pakistan Railways)…!
Travelling is the most essential thing nowadays to move from one place to another either it is on local areas or remote areas. Trains are also used on vast level in every country. In this regard Pakistan Railways is providing the trains facilities to all Pakistanis across the country. The basic purpose of this facility is to provide the best facilities of journey on low level. Sheikh Rashid Ahmad tweeted and told that Pakistan Railways would introduce a Mobile App for all the trains schedule across the country. People would be able to check the trains timing when it would come and when it's leaving time from a station. Now the train passengers can check the timings of trains arrival and departure by the Mobile App that would be introduced by the Pakistan Railways. Sheikh Rashid Ahmad also said that the fare of Lahore to Karachi would be Rs.1350/-. People are replying on Sheikh Rashid Ahmad's tweet as this app was launched earlier in the PMLN's Govt. in February 2017. Now we don't know this time the Mobile App for Trains Schedule would be the updated version of last year's app or it would be totally changed from the previous one.
Mobile App from Pakistan Railways
The railway facilities in Pakistan are provided by the Pakistan Railways which serves its facilities across the Pakistan. As it provides much low prices of fare now it would introduce mobile app in which passengers can check the trains arrival and departure timings. People can also make online bookings and can reserve their seats via this app. One more important Pakistani political personality Sheikh Rashid Ahmad shared this new via his twitter account as Pakistan Railways to introduce mobile app for conveying trains schedule to people. It would help people to check the trains timing and they don't need to wait more on the railway stations. He also added that the fare of Lahore to Karachi would be Rs.1350/-.
People Reply on Tweet
Many people are replying on Sheikh Rashid Ahmad's tweet as one replied:


One more person replied to Sheikh Rashid as see this app has been launched in last year so don't make a lie and here is the shot by which you can install this app.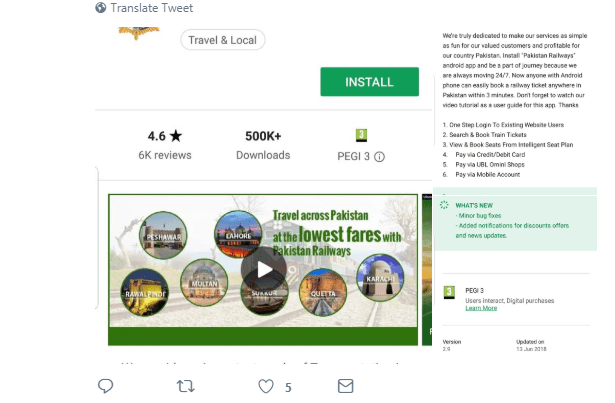 One more person said due to the timing problem trains would be reached after 2 to 3 years late in Baluchistan.


February 2017 Mobile App
A mobile app related to the online booking and trains schedule was also launched in February 2017 in PMLN Govt. Now we don't the mobile app which Sheikh Rashid Ahmad announced would be the old one or it would be the latest version with new settings and interface.
Related Article|Four Railway Trains would run from Tomorrow in Pakistan| Ease for Passengers