PCB has finally announced the PSL 2022 Schedule and the cricket lovers in Pakistan are ecstatic!
After changing and moving the date for PCL draft in the past few weeks PCB has also announced a date and venue for the drafting event for this new season. This is the 7th edition of PCL and it is titled 2022 Pakistan Super League and is sponsored by HBL once again.
This T20 cricket league has proved to be lucrative in terms of money earned as well as in terms of getting new talent for the Pakistani squad that represents the team all over the world. Gems like Hassan Ali, Shahdab Khan, Shaheen Afridi were discovered in different seasons of PSL.
With the PSL 2022 Schedule announced, we can finally anticipate some more blood warming matches between the teams that have become a beloved event every year.
PSL 2022 Schedule
Pakistan Cricket Board (PCB) just made the announcement of the PSL 2022 Schedule. According to the announcement made, the event this year will be month long and as promised, all the matches will be played in Pakistan.
HBL PSL 7: Multan Sultans to open title defence against Karachi Kings

More details ➡️ https://t.co/RfI4YLXuDP#HBLPSL7

— PCB Media (@TheRealPCBMedia) December 3, 2021
The event will begin from 27th January, 2022 and will end on 27th February, 2022. All of the matches will be played in Lahore and Karachi. According to the schedule announced, Karachi will hold 15 league matches that will be played between 27th January to 7th February at the Karachi National Stadium.
The rest of the 15 league matches will be played at Lahore at the Gaddafi Stadium. Lahore will also host the four play-off matches, including the Final at Gaddafi Stadium that are scheduled to be played from 10th February till 27th February.
The PSL draft is held at High Performance Center in Lahore on 12th December, which falls on a Sunday. All of the teams, the Officials and the broadcasters will be arriving in Karachi on 15th January, 2022 where they will quarantine there.
The opening ceremony will be held in Karachi on 27th January, 2022.
The first match will be played by defending champions Multan Sultans against Karachi Kings who won the 2020 edition on 27th as well. The match is set to begin at 7 PM Pakistan Standard Time.
PCB announced, "In the first of the six double-headers to be played in the 32-day and 34-match tournament, Multan Sultans will take on 2020 runners-up Lahore Qalandars at 2 pm PST, which will be followed by the Karachi Kings and Quetta Gladiators' fixture that will begin at 7 pm PST on Saturday."
They further added, "Two-time champions Islamabad will be in action on Sunday afternoon when they will lock horns with Peshawar Zalmi, with the evening match to be played between arch-rivals Karachi Kings and Lahore Qalandars."
Teams of PSL 7
The PSL 7 will be played between the usual 6 teams who will play 34 matches in total. The teams for this season are:
Islamabad United
Karachi Kings
Lahore Qalandars
Multan Sultans
Peshawar Zalmi
Quetta Gladiators
Karachi Kings will be captained by Babar Azam who has overtaken from Imad Wasim. Mohammad Rizwan will captain Multan Sultan. Sor far, Islamabad United has won two titles (2016 and 2018), Peshawar Zalmi has won one (2017), Quetta Gladiators has won one (2019), Karachi Kings has won one (2020) and Multan Sultans has also won one (2021). Multan Sultans will be defending their title!
Here is the complete schedule: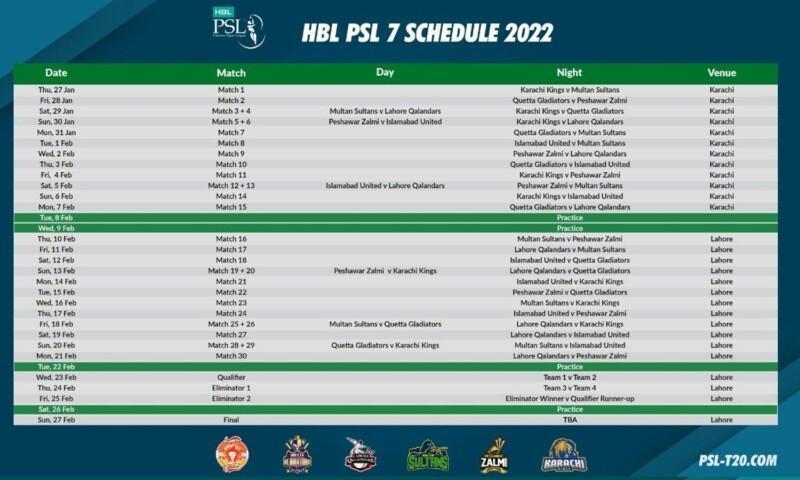 Who is your favorite team this season?