Increase your Knowledge & Skills by Applying in PTCL Paid Internship 2019!!!
PTCL is No. 1 Telecom Company is Pakistan which serves the telecom services in overall Pakistan. It gives all the internet, messaging and calls services on low rates to all the citizens of Pakistan. Here is a good news for all Pakistanis as PTCL announced PTCL Internship 2019 for 5 months in across the country. There is also a handsome stipend of Rs.15000/- per month. The applicants are required from all cities of Pakistan. It would be a project based paid internship with the duration of 5 months in Pakistan. It is a good opportunity for those who want to seek the real knowledge in practical life. The more details are described below about this internship.
A new initiative has been announced by the PTCL that is Pakistan's No. 1 telecommunication company in Pakistan. The PTCL Paid Internship 2019 has been announced in which the candidates who want to get experience and knowledge in practical life would be able to work in a competitive environment. A good opportunity for all those who want to become the future experts by gaining practical involvement in their lives. The PTCL Internship 2019 is available both for male and female candidates.
Basic Info Regarding PTCL Internship 2019:
Internship Location: All Cities of Pakistan (All Cities)
Duration: 5 Months
Stipend: 15,000 PKR
Deadline: June 30, 2019
Eligibility Criteria:
Minimum Education required is Bachelors.
Fresh Students are welcomed and no previous experience is required.
Graduated from University.
Candidates having B.com, BBA, or ACMA, the basic level will be preferred.
You may also Earn Online by Just Liking, Commenting and Sharing.
Internship Locations in Pakistan:
The Internship will be offered in the following Cities of Pakistan as:
Islamabad, Lahore, Karachi, Faisalabad, Rawalpindi, Multan, Bahawalpur, Sheikhpura, D.I Khan, Peshawar, Gujranwala, Muzaffaraabd, Abbottabad, Sukkar, Sialkot, Quetta, Jhelum, Hyderabad, Mianwali, Sahiwal, D.G Khan, Attock, Gujarat.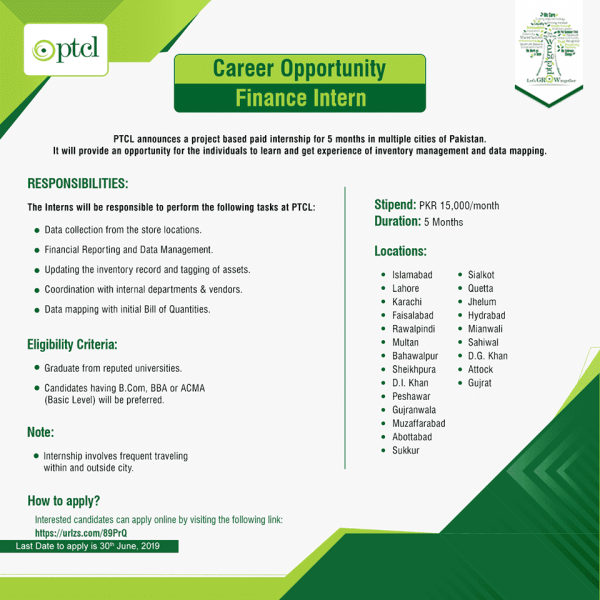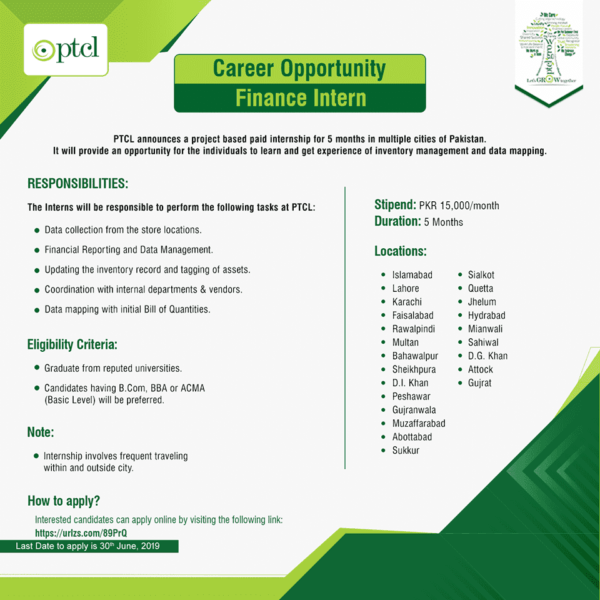 Task Descriptions:
The interns will be responsible for the following tasks in this program as:
Data collection from all store locations.
Updating the inventory record and tagging of assets.
Coordination with internal departments & vendors also.
Data mapping with an initial bill of quantities.
Monthly Stipend & Duration:
The PTCL Internship 2019 has the duration of 5 months
After the selection process the selected interns would be given Rs.15000/- per month.
Deadline:
The deadline for applying in PTCL Internship in Pakistan 2019 is June 30, 2019.
Application Form:
Only the online applications are required from across the country and you have to apply online for the PTCL Internship. There is no other method for applying in this program. So completely fill the online form and submit is successfully. The link for applying is given in the above picture.