Its All About QESCO Online Bill 2019 and Duplicate Copy for Consumers…!
QESCO stands for Quetta Electric Supply Company in Baluchistan Pakistan providing the electricity facility. It is one of the smallest company in terms of consumers as compare to other electricity companies of Pakistan. QESCO is one of the Eight AEBs, which were constituted through amendments in WAPDA Act during 1981. Government of Pakistan approved revamping of WAPDA power sector resultantly twelve companies were formed.As all other electricity companies of Pakistan are facilitating its region's people with online bill checking, viewing, printing and downloading facilities. So, the QESCO is also designed its online bill checking portal for its consumers for checking their monthly bills.
Now you don't need to stand in a long queue and waiting for your turn. You can online check your bill and can download a duplicate copy of your bill even last months or any other month of year. The complete details about QESCO Online Bill 2019 are here.
QESCO Online Bill Checking Method
For checking your monthly electricity online bill you need to perform these below mentioned steps. You also need to provide the simple details to view your online bill. Follow these easy steps and check your monthly electricity bill.
Open web browser that you frequently used as Firefox, Google Chrome, and Mozilla etc.
Open the official website of QESCO the following page would be shown.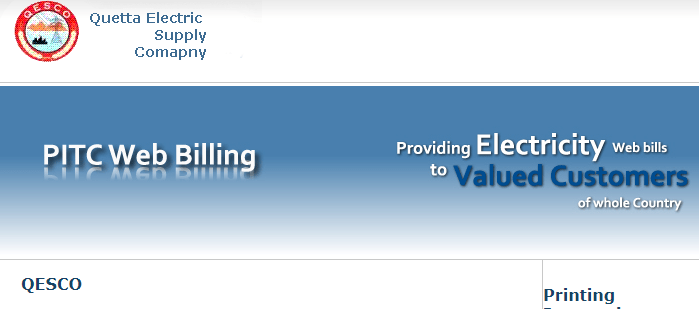 After this the QESCO PITC Web Billing Portal for consumers would be in front of you.
Now you need to enter 14 digit numeric reference number without spaces.
After inserting the reference number click on submit button.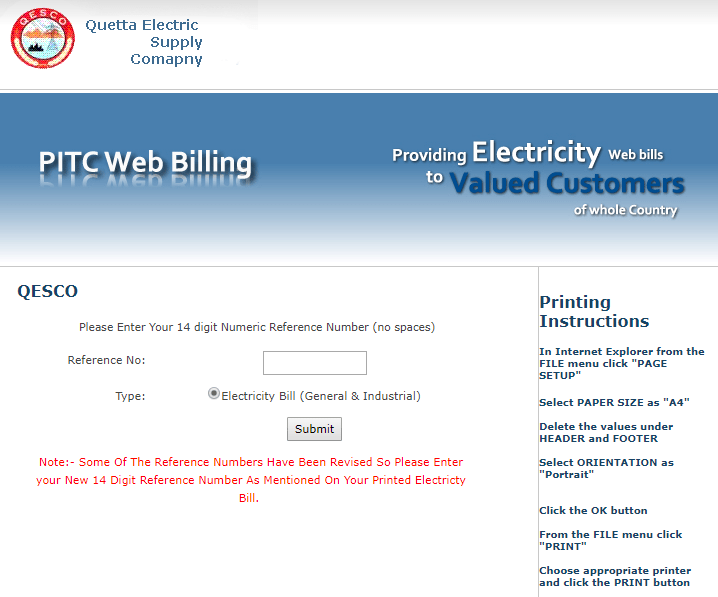 Your monthly bill of the year 2019 would be generated automatically after clicking on submit button. Moreover, you can check now your commercial or household Electricity Bills of recent month.
The consumers of GEPCO region can also check the Full Details of GEPCO Online Bill (Checking, Printing & Downloading) here.
Printing Instructions for Online Bill
For printing your monthly electricity bill you need to do the following easy steps as:
If you are using internet explorer then from File menu click Page Setup
Select Paper Size A4
Delete the values of Header & Footer
Select orientation as Portrait
Click the Ok button
From the File menu click Print command
You can also download your Electricity online bill in PDF form