BankIslami brings a unique opportunity for it's customers to win an "IPhone 7". Yes you read it right. Bank Islami is actually giving away two IPhone 7's and much more. Courtesy of the new "Swipe & Win" campaign, you can win many fantastic prizes including an IPhone 7, Ipad mini and other great prizes every month.
Bank Islami has started a new campaign "Swipe & Win" for it's dear customers.
wondering how to enter in to this campaign? Wondering how you can get your hands on those exciting prizes? Well let's find out, shall we?
To enter in this campaign you just have to use your Visa Debit card and you can win these exciting prizes. Yes, it's as simple as that! Just your Visa debit card on Point of Sale (POS) of PKR 5,000 or more and your name will get into a Luck draw. The lucky draw will be conducted at the end of every month and the winners will be announced in the first week of the month.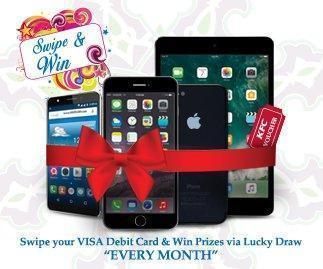 The prizes Includes:
Two IPhone 7
Four Ipad Mini
Six Qmobile
Fifty Dining vouchers of KFC
Important Notes:
 If a person has won something in a month, he will not be entitled to win anything for the rest of the scheme.
You can not claim money in place of the prizes and Bank Islami is not responsible for the warranty claims of the prizes either.
Transactions of the joint account holder will not be clubbed, and the prizes can not be shared between them.
Staff Of Bank Islami is also included in this campaign.
The decisions made by Bank Islami will be final.
This campaign can be called off without any prior notice.
Over the years, Bank Islami has made quite a name for itself. This new campaign "Swipe & Win" will surely attract lots of new customers. So, What are you waiting for? Start swiping your debit card now..