Infinx Mobile Phone is Hong Kong based company.Infinx Phones makes Android Mobile which is affordable and reliable.This Company has R&D centers in the South Korea and France. Infinx start making smartphones in 2013. Recently Infinx phones launched a new model Infinix Note 3 and this phone have a long lasting battery life. This Phone was launched in September 2016.
Features of Infinix Note 3:
Infinix phones proved that they make some bettert android phones and after that they launched infinix Note 3 which has 13 Megapixel strong camera with Dual LED flash light and it has front selfie cam also which is 5 Megapixel and has a flashlight for selfie lovers. Infinix makes a lot of changes in this new model because in last models of infinix mostly users of Infinix mobiles complained that these phones have a heating problem but Infinix take a new action in Note 3 they add some additional fans in it and also they add some liquid cooling system in Infinix Note 3.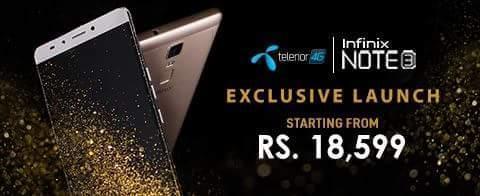 Infinix mobiles add one more new technology in Note 3 which is it supported 4G fast speed internet.  You can enjoy up to 150 Mb blasting speed on Infinix Note 3. Note 3 supports 2 sim cards. One more step they take in its resolution which is they increase the color of the screen which is 160000 colors.
Infinix Note 3 Support up to 128 GB memory card and Infinix note 3 have 16 GB ROM ( Internal Memory ).It has one of the most advanced Android OS. It has Octa Core Processor for game lovers and has 2GB Ram. You can watch HD Songs and movies on infinix Note 3.
One more good news for Pakistani readers Because daraz.pk offering Infinix Note 3 with the Telenor 4G blasting speed. They are offering Infinix Note 3 with Telenor 4G internet 1500 MB free for 3 months. These MB will be provided to only Infinix Note 3 buyer of daraz.
Get Infinix Note 3 with 3 months Telenor 4G offer in just Rs.18,599.