Ufone has announced a brand-new offer for their 4G customers called the Ufone Ustar Offer. Ufone is one of the most popular and much-beloved telecommunications company in the country. They have millions of consumers who use their services to stay connected with their loved ones.
The Ufone Ustar Offer is specifically for the Ufone customers who have 4G services activated on their numbers. This is a weekly offer that will be enough for you to stream your music, videos and games and keep in touch with your loved ones on social media.
Here is everything you need to know about the new offer by Ufone.
Ufone Ustar Offer
The Ufone Ustar Offer will come with free on-net minutes, free off-net minutes, free SMS and free massive data for 7 days. Here is a look at everything you will get when you get this new offer from Ufone. Keep these in your mind before you apply for it.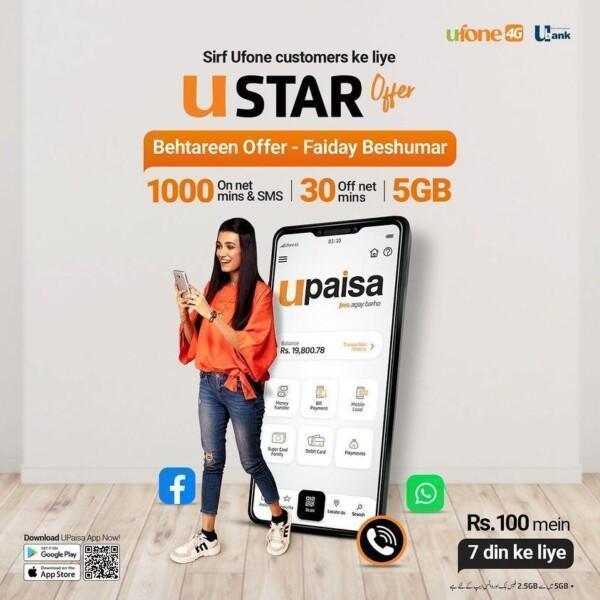 When you get the Ufone Ustar Offer, you will get:
Free 30 off-net minutes
Free 1000 on-net minutes
Free 1000 SMS
5GB Free Data
5GB of the free data is allotted and reserved for WhatsApp and Facebook
The offer can be availed for Rs 100
To get this offer, you will need to have UPaisa app on your smartphone and need to have money saved in this app as well. For more information and details, you will have to download the UPaisa app from Google PlayStore or Apple iStore.
The UPaisa is a genuine and one-of-a-kind service that works in tandem with Ubank services provided by Ufone. The consumers of Ufone and Ubank enjoy many special services that also include UPaisa, an app that is very similar to Jazz Cash and Easy Paisa.
This E-wallet is easy to use and incredible useful for when you want to shop cashless and be free of worries of carrying cash in your wallet. While UPaisa can be used by any person in Pakistan, the Ufone Ustar Offer is only for Ufone customers who are also using the UPaisa app.