Everything is Here about Latest Vivo Y90 Smartphone…!!!
The need of mobile phones has become one of the main need of every human being nowadays. No one can think without this device in his/her life. To fulfill this need all the mobile phone companies are working hard and launching new smartphones day by day. Today, here I am going to tell you about a new smartphone named Vivo Y90 that is officially launch and available in markets. Moreover the latest Vivo Y9 Smartphone has become the newest entry-level smartphone by the Vivo Company. This smartphone is built around a 6.22″ HD+ FullView display with a notch up top having the 5MP selfie camera for perfect selfies. The back of the smartphone has curved edges and is includes an 8MP primary sensor for the best photographs. Complete details about this mobile phone are given below.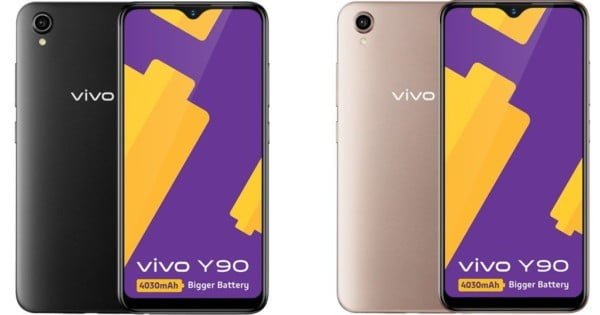 Key Specs of Vivo Y90 Smartphone
Today Vivo Company officially launch a new mobile phone that can also be called having a low cost. The latest Vivo Y90 Smartphone has been launched with a large no. of specs and features lists.
Firstly, it has a 6.22″ HD+ FullView display with a notch up top with 5MP selfie camera. Secondly, the back side of the Vivo Y90 Smartphone has curved edges and holds an 8MP primary sensor.
Thirdly, the latest vivo Y90 packs a Helio A22 SoC along with 2GB RAM. On the other hand, it has 16GB or 32GB of storage which can be further expand up to 256GB via microSD card.
Another Vivo Mobile Phone as Vivo Z5 Phone will Announced on July 31, 2019.
Moreover, this smartphone has not includes a fingerprint scanner so, biometric authentication is possible through face unlock. 
The last one, Vivo Y90 Smartphone packs 4030 mAh battery capacity. One more interesting news for the fans of Blue and Gold colors, because it is offered in Blue and Gold color options.
Price Details
It is available at Rs.18999/- PKR in Pakistan with 32GB storage option in Blue and Gold colors . It's really a mid-range smartphone for Pakistanis with such a great line of specs and features in Y90.
Moreover, in India the Y90 comes with 16GB storage and will go on sale from tomorrow for INR6990.