Waseem Badami, a name known to many for his brilliant hosting skills and kind personality. He is a renowned Pakistani TV show host and anchor. Waseem started his career as a host in 2006. He garnered fame and respect with his Ramzan transmission 'Shan-e-Ramzan.' One of his television show 'Masoomana Sawal,' was also responsible for earning him respect. A lot of people in Pakistan and across the globe admire him and hence want to know more about him. Therefore, this section is going to highlight the Waseem Badami Biography, age education, marriage, career and more.
Waseem Badami Biography
Waseem Badami is a Pakistani journalist and host who started his career back in 2006. He is best known for his own show named as 11th Hour with Waseem Badami. He has been part of many news channels like ARY News and BOL News. He is very proficient in talking and debating which is why he rose to heights of success within very little time. In past, he used to be a news anchor on ARY but later on he became a host of talk show on ARY News. He has been associated with ARY since 2006. Due to all his hard work and best talking skills, he got various awards from time to time. He has huge fan following on his Instagram, Facebook and Twitter accounts. He has interviewed very famous political personalities including Tasneem Ahmed Qureshi, Firdous Ashiq Awan, Rana Sanaullah, Zaid Hamid, Imran Khan and many others.
Waseem Badami Age
He was born in Karachi on 7th February 1985. His birth sign is Aquarius which encompasses people who are ambitious, strong and charming. The year 2021 marks his 36th birthday.
Waseem Badami Education
He got his early education from Karachi. However, he moved to Islamabad where he completed his MBA degree in marketing from Shaheed Zulfiqar Ali Bhutto Institute of Science and Technology (SZABIST).
Waseem Badami Family
Currently, he lives with his family in Karachi. In various shows, he keeps on displaying his love for his mother. He has a very supportive family. Waseem is married to Mahira Fatima and they have a son named Adil Abbas.
Waseem Badami Career
At very start, Waseem used to give traffic updates on radio when he was a student himself. He started his career as a researcher in the 'Business Plus Channel.' Later on in 2016, he joined ARY News as an anchor and journalist. However, he left ARY for few months and joined BOL News as an Executive Vice President and Senior Anchor person. Later in 2015, right after six months, he rejoined the ARY News and started working there.
Currently, he is hosting a well-known talk show "11th Hour with Waseem Badami" on ARY News. Additionally, he hosts Shan-e-Ramzan on ARY Digital. 'Masoomana Sawal,' is one of the TV shows which has become his identity. Moreover, he hosts a cricket-based show named 'Har Lamha Purjosh,' during Pakistan Super League (PSL). He also runs a beauty brand named 'WB' after his initials. He started the brand in 2017 after partnering with Hemani Herbals. After Karachi, the WB brand products were launched in Dubai as well.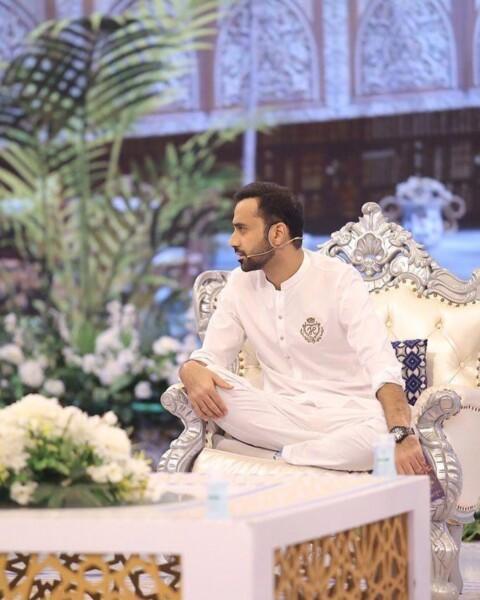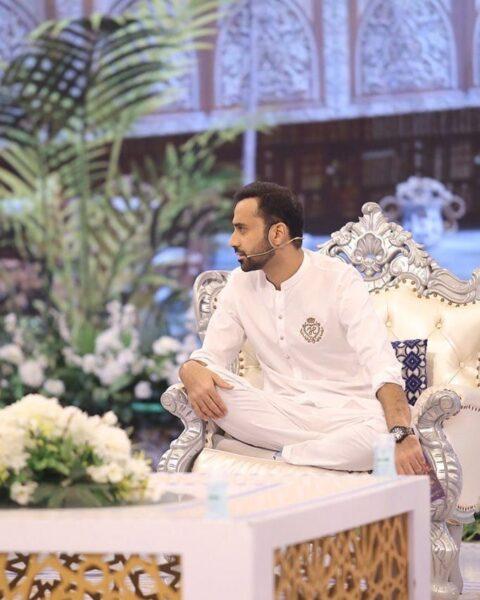 Waseem Badami Awards
His sheer hard work garnered him many awards.
In 2016, Agahi Award awarded him 'Favorite Current Affairs Anchor- Male.'
In 2018, his skin care brad got 'Emerging Brand of the year Award' due to its popularity.
In 2019, he was awarded for his Ramzan transmission. He won the 10th Pakistan achievement Award for best 'Ramzan Transmission Host.'
He also got award for 'Best Anchor Person,' and 'Best TV Host.'Waseem Badami |Biography, Age, Education, Marriage & More
Also Read: Hammad Shoaib | Biography, Age, Education, Marriage & More