Zong is coming up with new packages day b day. Now a days, Zong is considered one of the best networks. It has now come up with one of its best bundles. This bundle has much more under one offer. Zong has now come up with Monthly Supreme Punjab Offer. Before this offer, Zong has launched many other offers too. But this one is best. Through this bundle, there is no need to subscribe for any other bundle.
With this Zong offer you can now get 5000 Zong to Zong minutes plus SMS, 300 other network minutes, and 20GB of net in which 10GB net is available for YouTube for a month. Along with these minutes and 20GB of net, you can easily pass your one month. As, there is no limitation of net usage in this offer. You can watch YouTube, use Facebook, WhatsApp, and google whatever you want by subscribing this offer.
This is one of the best packages for monthly basis. As you can do everything with this one package. But this package is only for the Punjab province. You can only avail this offer, if you are living in the Punjab. You can avail this offer by getting a load of Rs.1000 only including the tax.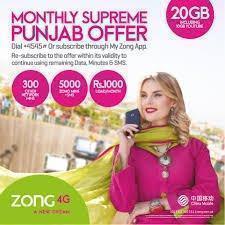 Subscription of Zong Monthly Supreme Punjab Offer
You can subscribe to this Zong Monthly Supreme Punjab Offer by *4545#
You can also avail this offer by sending SMS to: Sub MSP to 6464.
There is no auto renewal of this offer. So, no need to un-sub this offer.
Terms and Conditions
This offer is available for central region only.
You can avail the remaining minutes and data by re-subscribing this offer before the expiry date.
Rs 1+tax will be charge for every MB after the usage of 20GB data under this offer.
Check Out : Jazz Mahana Bachat Offer