Rumors are Saying Aamir Liaquat is Fired from PTV's Ramzan Show Due to Misbehave with Staff & Management!!!
All Pakistani channels broadcast the Ramzan Transmissions in this sacred month. On PTV channel a show named Hamara Ramazan is hosted by Aamir Liaquat Hussain. Many rumors are spreading about Aamir Liaquat Hussain as he is fired from PTV's Ramzan Show Hamara Ramazan. But Aamir replied in this news as he missed today's transmission due to some health issues. Now no one knows what is true and what is wrong. Last night he left his seat during the transmission and many people are saying that he has been fired from this show. Aamir Liaquat Hussain praised the Prime Minister of Pakistan during the 4th Sehri and said the Aamir Liaquat's time has been ended there.
PTV's Transmission Hamara Ramzan
Aamir Liaquat has become one of the most controversial figures of Ramazan TV with lot of shocking news aired on live TV during his shows. In last few years many rumors about Aamir Liaquat Hussain also spread and this time rumors are again saying that Aamir Liaquat Hussain has been fired from hosting PTV's Ramazan show Hamara Ramazan. But the TV host told viewers that he missed today's Sehri transmission for his health reasons.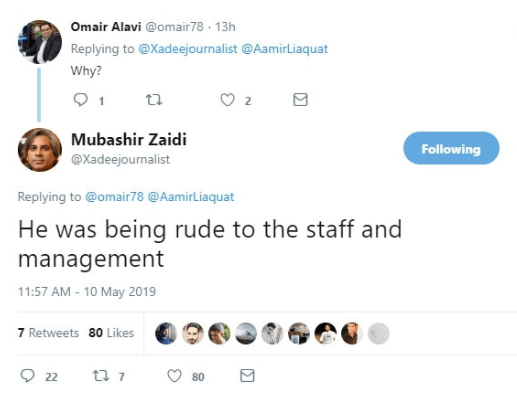 Aamir's Reply
On this viral news Hussain posted in a tweet late last night that he will be back to host today's Iftar transmission as per his usual routine. He said I am sick and can't participate in Sehri Transmission so I apologies from the viewers.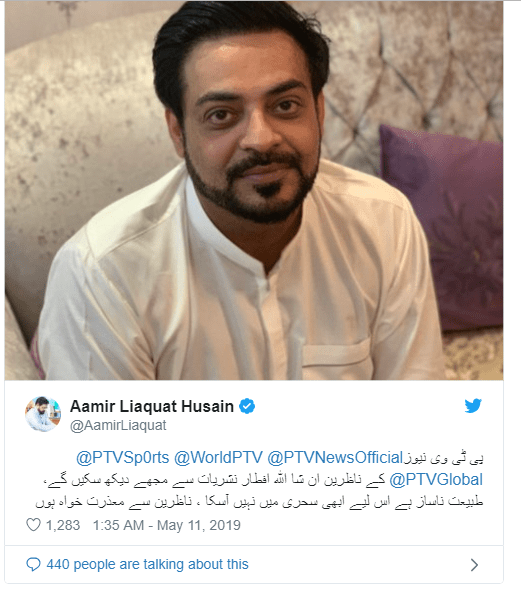 On the other hand rumors are saying that Hussain has been sacked from PTV's Ramazan transmission due to the rude behavior towards the channel's staff and management.
The Most Controversial Man, Amir Liaquat is Going to Leave PTI? Check His statements About Party Leadership.
Aamir also tweeted some posts in which he write about some problems but not expressed the exact problem.


He apologize from the viewers and said due to the sickness I can't host the Sehri transmission but I will be available in Aftar Transmission.
Moreover Aamir Liaquat has also been hosted regarding Ramzan Transmissions in ARY, Geo News and Bol Channel. Many issues were earlier highlighted about him.
Now the viewers and other are waiting that what's the truth and is he really sick or sacked from the PTV's Ramzan Transmission due to the misbehave with channel's staff members and other management team.