Cryptocurrencies have taken the world by storm since the rise of Bitcoin and the situation in Pakistan isn't any different. While Pakistan is slow in adopting Cryptocurrencies at state level and these digital currencies still lack legal recognition here; people, nevertheless have invested in trading and mining of Cryptocurrencies in Pakistan.
Here's a comparison of Bitcoin and Ripple in Pakistan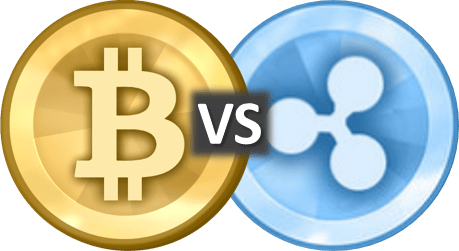 Bitcoin
Bitcoin, arguably the most popular cryptocurrency and the pioneer of an era of digital currencies, remained a hot topic throughout the year 2017. Bitcoin recorded some extraordinary ascends and descends in its value over the past year, making it extremely popular. People from all over the world, including Pakistan, have been pouring in heavy investments into Bitcoin trading, hoping for considerable profits.
Coined by an unknown group of developers in 2009, Bitcoin remained less known until 2017, when its value sky-rocketed from only a few hundred Dollars to over $18000. Bitcoin recorded the highest rate of growth in the last quarter of 2017 and its value reached an all-time high at $19000 in mid-December.
The extraordinary increase in value of Bitcoin was followed by some slight falls however, at the time of writing, 1 Bitcoin in valued at around $14000, which is still way ahead of any other cryptocurrency.
Nevertheless, Bitcoin in Pakistan may not be the best investment for the future as per some experts. Even though Bitcoin and Ripple in Pakistan are the highest grossing Cryptocurrencies, Bitcoin's future is uncertain. A lot of people have deemed it as a 'bubble' that can 'burst at any time' but considering past trends, it is safe to say that Cryptocurrencies are highly unpredictable and one must carry out thorough research before investing in them.
In spite of all that, Bitcoin must not be underestimated since this still remains the largest and the most popular cryptocurrency in Pakistan, with a market cap of $233 billion.
Ripple
Ripple is another extremely popular crypto currency in Pakistan. Once deemed as an alternative to Bitcoin, Ripple didn't exactly grow as big as it was expected to, however, it is also amongst the largest Cryptocurrencies and people from all over the globe, including Pakistan have invested on Ripple.
First released in 2012, Ripple didn't come into the limelight until December 2017, when its value soared at an over-whelming rate. Ripple's value topped at $2.9 per coin in mid-December and one coin is valued at around $1.9 at the time of writing. Ripple was expected to perform better than it actually did however, it still is the third largest cryptocurrency according to market capitalization is its overall value at the time of writing is $72 billion. Ripple in Pakistan is still quite popular and attracts investement.
Conclusion
Bitcoin and Ripple in Pakistan may not be the best investments, considering some newly emerging Cryptocurrencies, offering more interesting figures. Some of them are Ethereum, Bitcoin cash Neo, Litecoin, EOS etc.
Also Check out: Best CryptoCurrencies in Pakistan 2018