Proton SUV X70 Launched in Pakistan
Retailers:
As pandemic is going on everything has become online so that one can easily avail it without any danger to life. Many retail brands have shifted their business to online. One of the Retailer PAKWHEELS has made it very simple. Now one can book and pay installments of the car Proton SUV X70 by just filling out their form online.
One can also book and pay the installments directly from Al-Haj Automotive from Proton Pakistan. They have given their representatives numbers with whom you can directly ask your queries, but for the booking it has been shifted to 9 months. As there were several customers flooding the booking list of Proton SUV X70.
PRICE IN PAKISTAN:
Currently there are two types of CBU X70 on sale, one is the Executive All wheel drive (AWD) variant which is at Rs. 4,890,000 (RM 123,372) and the other one is Premium Front wheel drive (FWD) at Rs. 5,390,000 (RM 135,987). These two variants are imported from Malaysia.
There will be a locally assembled version in 2021 (built in Karachi), this will lower down the price of Proton SUV which is Executive (AWD) Rs. 4,690,000 (RM118,326) and Premium (FWD) Rs. 4,990,000 (RM 125,895)
Some Prominent Features:
Proton X70 is a very compact crossover SUV.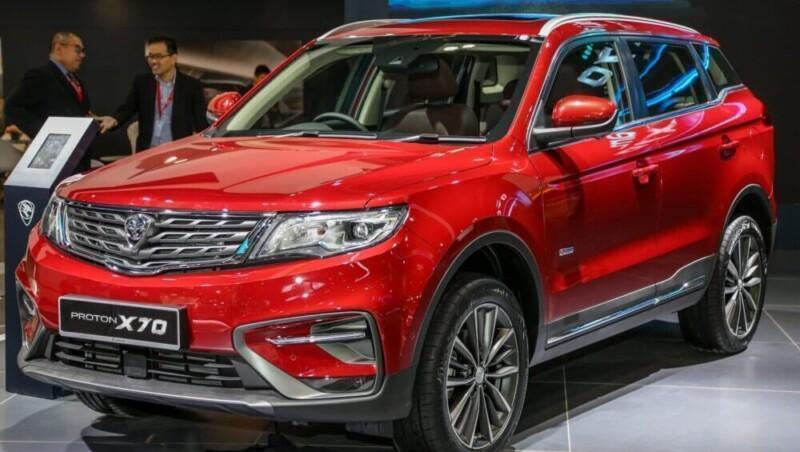 Exteriors of SUV X70:
The SUV X70 was displayed in two beautiful colors- Red and other one was Metallic grey. It has sharp grille, high bumper, and headlights, 18-inch wheels and the chrome side impact at the bottom. SUV X70 has a sloping tailgate with a top spoiler and sharp LED taillights at the back, with bottom center brake lights.
Engine:
1.5-liter, turbo charged, 3-cylinder petrol engine. SUV X70 has a 7- speed DCT automatic gearbox producing power of 184 hp and 300 Nm of torque. Fuel economy 7.8L/100km.
Brakes and Suspension:
Proton SUV X70 has an Anti-lock Braking System (ABS) technology on all four wheels with ventilated disc brakes. At the Front there is McPherson Struts while Multi-link coil spring suspension at the back.
Complete Built-Up unit (CBU):
Initially SUV X70 will be presented as a Complete Built-Up Unit (CBU) in Pakistan. There will be additional features in the Pakistani version of SUV X70.
You can book from these retailers, and you will get your car from Aug-2021 and it will local assembled. Booking for CBU units are closed now.