Check HESCO Duplicate Online Bill (Simple Steps)…
HESCO stands for Hyderabad Electric Supply Company, an electricity distributor for the residents of Sindh and other regions. Just like other electric supply companies in Pakistan, HESCO has introduced the system of duplicate copy of the consumer bill from its official website. If anyone has not yet received its previous month electricity bill or lost it accidentally he can get it printed from the official website of its regional electricity provider. Therefore, HESCO design its online bill paying portal from where consumers can view, pay and download duplicate print of their bills at home. The facility of checking HESCO Online Bill is available on official site of HESCO (http://www.hesco.gov.pk/) where consumers can get the copy of their bills.
Method of HESCO Online Bill Checking
You can check your HESCO Online Bill by performing a very few and easy steps. Give the following instructions and check your bill when you want.
Open your web browser that you mostly use as Google Chrome, Firefox etc.
Now open the official website of HESCO or copy this link in search bar (http://www.hesco.gov.pk/). The official website of HESCO would be open.
Now click on this link (http://210.56.23.106:888/hescobill/). The consumer web portal would be open.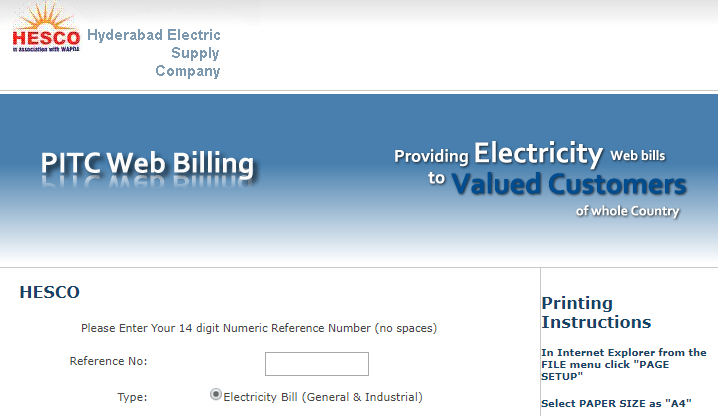 After these simple steps you will see this page.
Here you would enter 14 digit numeric reference number without spaces.
After inserting your reference number click on submit button.
The system will automatically generate your current electricity bill when you click on submit button. The General & Industrial Electricity Bills of recent month can be checked from this procedure.
Print HESCO Bill
If you are using Internet Explorer then follow these steps as:
From FILE menu click PAGE SETUP
Select PAPER SIZE as A4
Delete the values of HEADER and FOOTER
Select ORIENTATION as Portrait
Click the OK button
From the FILE menu click PRINT
You can also download your HESCO online bill in PDF form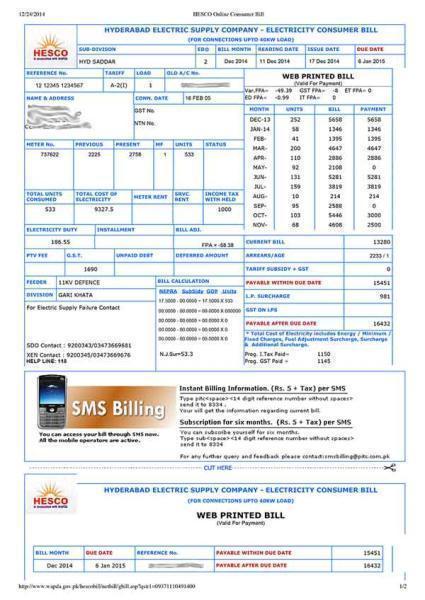 Areas Covered by HESCO
To ensure uninterrupted supply of electricity HESCO has been divided 17 districts of Sindh Province into 5 operation Circles, 23 operation Divisions and 111 operation Subdivisions.
Hyderabad Circle-I (5 Divisions, 22 Sub-Divisions)
Hyderabad Circle-II (4 Divisions, 21 Sub-Divisions)
Nawabshah Circle (5 Divisions, 26 Sub-Divisions)
Sukkur Circle (5 Divisions, 22 Sub-Divisions)
Larkana Circle (4 Divisions, 20 Sub-Divisions)
Contact Details of HESCO
Address: HESCO Headquarter WAPDA Complex, Hussainabad Hyderabad Sindh, Pakistan
Phone #: (+92)22-9260161
Email: dmprhescohyd@gmail.com
Related Article|FESCO Online Bill | How to Check, Print and Download Your Bill