Dow University of Health Sciences (Vision, Mission, Programs, Facilities etc…)
Dow University of Health Sciences (DUHS) developing tradition of excellence in education, research and community service. The University provides excellent academic facilities through fully equipped laboratories, museums and information technology. There are also Professional Development Centers (PDC) in the University for the training of postgraduates. Dow University of Health Sciences has the International standards, having all main institutions and departments ISO certified with ISO 9001-2008. Dow University has introduced a teaching and learning method which facilitates students to become skilled persons.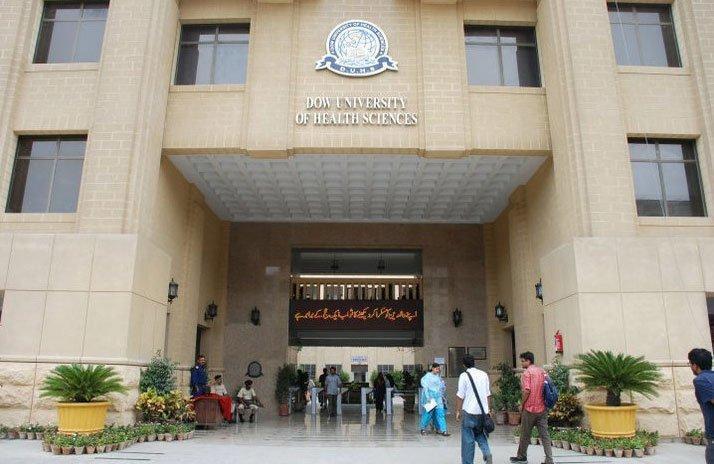 Vision Statement of DUHS
To be an academic leader by generating creative, collaborative, contextual resources to improve health by all possible means.
Mission Statement of DUHS
To provide leadership in creating and imparting knowledge through excellence in research and education with an aim to provide cost-effective, contextually relevant and quality community service through its faculty, graduate staff and to continuously strive for improvement through reflection and learning.
Main Goals of the University:
To have contemporary approach in Education and Research.
To enhance knowledge and expertise through national and international collaborations.
To focus in research with scholarship.
To elevate health status of the community and increase public awareness.
To identify problems and solve with collaborations of stake holders.
To provide health care facilities of international standards.
To review and reflect practices continuously for rectification and enhancement.
Academic Programs in Dow University of Health Sciences
All the academic programs that are offered in Dow University of Health Sciences are here. All Under Graduate Programs, Graduates, Diploma and certificate programs are described below.
1. Under Graduate Programs
MBBS
Bachelor in Dental Surgery (BDS)
Pharm-D (Doctor of Pharmacy)
BS Generic Nursing (BSN), Post RN. Nursing
Doctor of Physiotherapy
BS Occupational Therapy
BS Prosthetic & Orthotics
BS in Dental Care Professional (DCP)
Dental Hygiene
Dental Technology
BS Medical Technology
Bachelor of Business Administration (BBA)
BS Nutritional Sciences
BS Biotechnology
Associate of Applied Sciences (AAS)
BS Radiology
Associate of Bio-Medical Engineering
2. Post Graduate Programs
PhD – Basic Medical Sciences
PhD – Public Health Program
MPhil Program
MDS (Master of Dental Surgery), Clinical
MDS (Master of Dental Science), Basic
Master's in Public Health (MPH)
Master of Science in Biostatistics & Epidemiology (MSBE)
Master of Science in Public Health (MSPH)
Master of Science in Nursing (MSN)
MS Advanced Physiotherapy (MSAPT)
Transfusion Medicine & Tissue Typing (MSTMTT)
3. Diploma Programs
Diploma in Family Medicine (DFM)
Diploma in Medical Jurisprudence (DMJ)
Diploma in Cardiology (DIP-CARD)
Diploma in Larynges Otorhinology (DLO)
Diploma in Critical Care Center
Diploma in Tuberculosis and Chest Diseases (DTCD)
Diploma in Child Health (DCH)
Diploma in Dermatology (D-DERM)
Diploma in Radiology (DMRD)
Diploma in Anesthesiology (DA)
Diploma in Ophthalmology (DO)
Diploma in Psychiatric Medicine (DPM)
Certificate Programs
Echocardiography
Certificate Course in Vascular Doppler Ultrasound
Certificate Course in Color Doppler-Ultrasound
Certificate Course in Non Vascular Interventional Radiology
Certificate Course in Neurospinal Imaging
Certificate Course in Ultrasonology
Student Facilities in DUHS
Dow Vocational Training Center
Library
Campus Management Solution
Clinical Trials Unit
Financial Aid Office
Professional Development Center in Dow University of Health Sciences
Professional Development Centre provides training facilities to undergraduates, postgraduates, residents, faculty members and other health professionals.


PDC has four major areas as:
Continuing Medical Education
Continuing Professional Development
Undergraduate Skills Lab
Miscellaneous programs
The Professional Development Centre has simulated ICU, simulated Operation Theatre, Laparoscopic / Endoscopic Suites, three training halls and a Conference Room. All these equipped with the latest audio-visual and multimedia systems, state of art equipment, electronic simulators and manikins. PDC is a site for all those healthcare professionals who are looking to enhance their skills and knowledge.
Financial Aid Office in Dow University of Health Sciences
Dow University of Health sciences also has a Financial Aid Office to facilitate students who are unable to pay their fee charges due to financial problems. The mission of this office is to increase the number of funding organization / Philanthropist and signed Memorandum of Understanding (MOU) with them.
The financial aid, scholarships, Qarz-e-Hasna and Loan are available for students at undergraduate & graduate levels at DUHS.
Contact Details
DUHS Head Office:
Address: Dow University of Health Sciences Baba-e-Urdu Road Karachi, Pakistan
Postal Code: 74200
Phone: +92-21-99215754-57 & 38771000
DUHS Ojha Campus / Dow University Hospital:
Phone: +92-21-99232660 & 38771111
Email: info@duhs.edu.pk
Related Article|UHS – University of Health Sciences | Get Complete Information